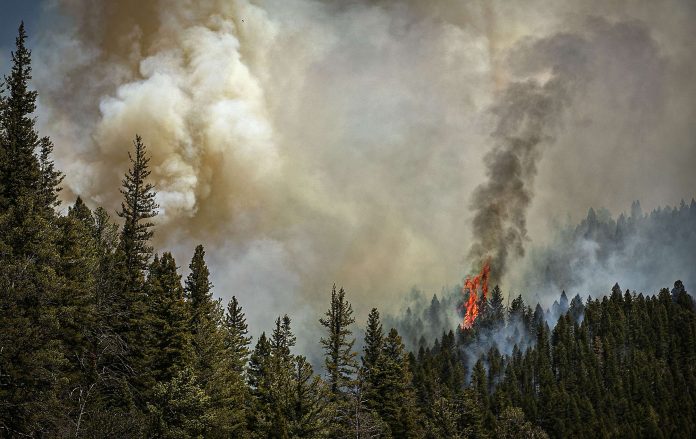 Associated Press
ALBUQUERQUE, N.M. (AP) — Relatives of three people who died last year in a flash flood stemming from the largest wildfire in New Mexico's recorded history are suing the U.S. Forest Service.
The wrongful death lawsuit filed earlier this month alleges the Forest Service was negligent in the management of the prescribed burn and also failed to close roads and prevent access to areas at risk for flooding that followed the Hermit's Peak/Calf Canyon Fire.
The three West Texas residents were staying at a family cabin in northern New Mexico in July 2022 when monsoon rains hit the burn scar near Tecolote Creek. That created a flash flood that swept the three victims to their deaths.
According to the Albuquerque Journal, the lawsuit also contends that the Forest Service failed to provide adequate warnings to the victims about the dangers caused by the wildfire and the dangers of potential flooding in the area.
Neither the Forest Service nor its parent agency, the U.S. Department of Agriculture, has formally responded to the lawsuit so far.
The U.S. Department of Agriculture didn't provide a settlement offer or denial of claims initially filed in the case earlier this year, according to the lawsuit.
The blaze burned more than 533 square miles (1,380 square kilometers) in San Miguel, Mora and Taos counties. Authorities said an improperly extinguished pile burn operation rekindled and merged with another prescribed fire that went awry, destroying about 900 structures, including several hundred homes. No deaths were reported while the fire raged for months.
Congress set aside nearly $4 billion to compensate victims. FEMA has said its claims office has paid more than $101 million so far for losses, but many families have complained that the federal government is not acknowledging the extent of the damage or the emotional toll the fire has had on families whose ties to the land go back generations.