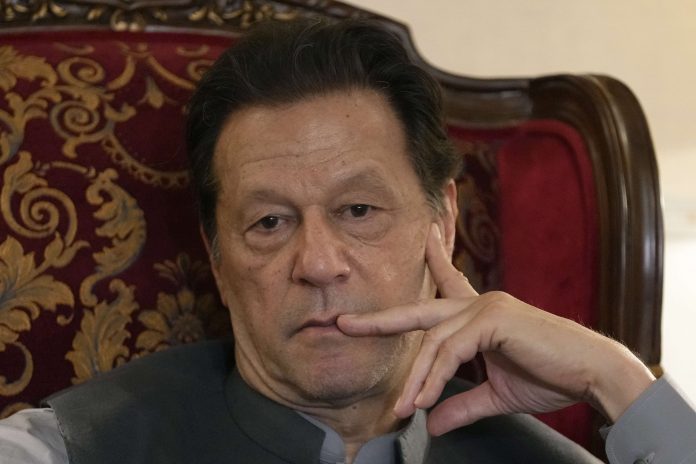 By MUNIR AHMED
Associated Press
ISLAMABAD (AP) — A Pakistani court on Monday indicted Imran Khan on charges of revealing official secrets after his 2022 ouster from office in another dramatic move against the former prime minister who could now face a possible death sentence and will likely be unable to run in parliamentary elections in January.
Khan and Shah Mahmood Qureshi, a close aide and the deputy leader of Khan's opposition Pakistan Tehreek-e-Insaf party, will go on trial this week at a high-security prison in the garrison city of Rawalpindi.
The charge of revealing state secrets carries a sentence ranging from life in prison to the death penalty, according to Umair Niazi, one of Khan's defense lawyers. Niazi, however, said he was confident Khan and Qureshi would be acquitted as they had done "nothing wrong."
The trial starts on Friday and both Khan and Qureshi have denied the charges against them. The hearings will take place before a special court behind closed doors at the Adiyala Prison, where Khan is being held. Khan's lawyers have objected to the closed-door trial.
The case is related to Khan's speech and waving of a confidential diplomatic letter at a rally after his ouster in a no-confidence vote in parliament in 2022. The document — dubbed Cipher — has not been made public by either the government or Khan's lawyers but was apparently diplomatic correspondence between the Pakistani ambassador to Washington and the Ministry of Foreign Affairs in Islamabad.
At the time, Khan held up the alleged letter, claiming it was proof that he was being threatened and that his ouster was a U.S. conspiracy, allegedly executed by the military and the government in Pakistan. Washington and Pakistani officials have denied the claim.
Another defense lawyer for Khan, Naeem Panjutha, claimed on Monday that the former premier and Qureshi were "indicted in a hurry" with the intention of convicting the popular opposition leader quickly.
Khan is facing more than 150 cases, including charges from contempt of court to terrorism and inciting violence, and was sentenced to three years for corruption in early August. Subsequently, an Islamabad High Court suspended that sentence in what amounted to a legal victory for Khan. The victory was short-lived as he was re-arrested later in August in the Cipher case.
For now, Khan is not eligible to run for office in the January elections on two counts. He would have to be cleared of corruption charges in the graft case and secondly, the Cipher case charges would have to be either dropped or he would also be cleared of them.
Panjutha, Khan's lawyer, said in a video statement to reporters Monday that his client is being denied a fair trial.
Over the weekend, Khan's main political rival and former Prime Minister Nawaz Sharif returned to Pakistan, ending his four years of self-imposed exile in London. Sharif addressed on Saturday a large homecoming rally in the eastern city of Lahore, declaring that he forgives all those who caused him hardship.
Sharif and his Pakistan Muslim League party are expected to face tough competition in the January vote from Khan's party, the latter being hugely popular among Pakistanis.
Sharif has been a fugitive since he failed to appear before a Pakistani court in 2019 — during Khan's term in office — following his conviction and a 10-year sentence on corruption charges.
However, a federal court recently granted him protection from arrest, which may have prompted his return home. He still has to appear before the Islamabad High Court on Tuesday.
Khan, a former cricket star turned Islamist politician, is also accused of inciting people to violence in May, when his supporters rioted for days after his arrest, attacking military and government installations. The violence subsided only after Pakistan's Supreme Court freed him days later.
In a subsequent crackdown, authorities arrested scores of Khan's supporters and later announced trials before military courts for more than 100 suspects in the violence, drawing criticism from human rights groups and Khan's party.
In a separate development, the Supreme Court in a landmark ruling on Monday declared that trials of civilians by military courts were against the law.
The decision followed petitions filed by some of the suspects facing trial over the May rampages, who argued the military should be only authorized to try military personnel or those working as military contractors.
Khan's lawyer Panjutha welcomed the decision, saying there wouldn't be any military trials of civilians in the country.
This will probably not impact Khan since none of his proceedings have been referred to military tribunals. But it will likely bring relief to suspects in the May violence, whose cases are now guaranteed to be heard by regular courts, according to legal experts.
The army has wielded huge influence in Pakistan, ruling it for half of the country's 76-year history. In the past, civilians were tried by military courts only when the military was in power.