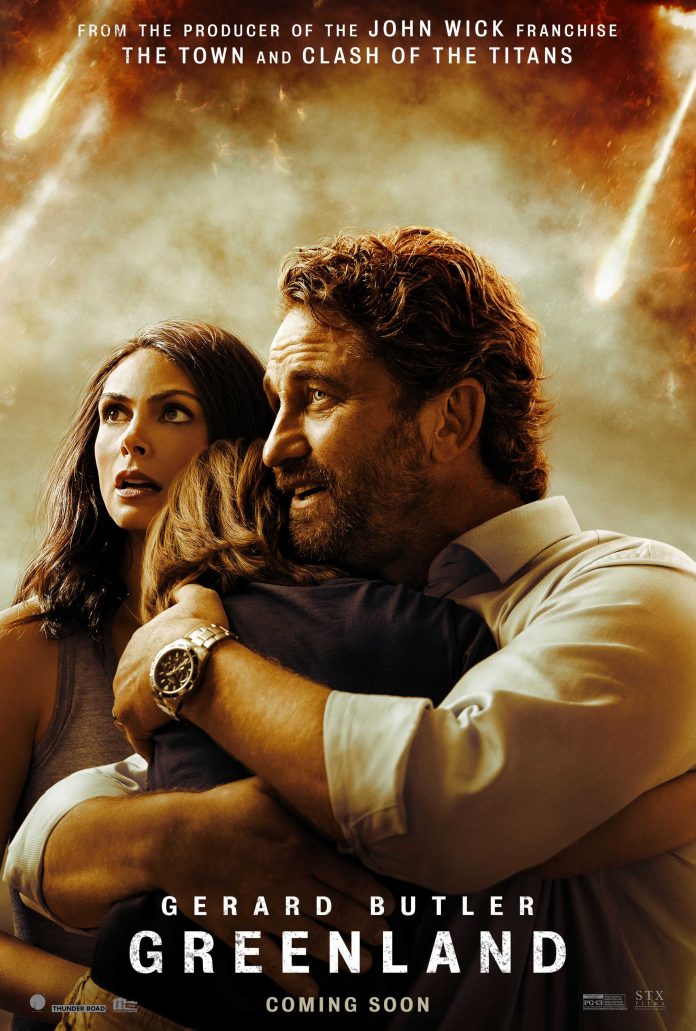 Greenland", an action thriller that revolves around a family who must fight for survival as a planet-killing comet races to Earth, starring Gerald Butler and Morena Baccarin is released in Caribbean Cinemas on Thursday, August 20th.
The movie was directed by Ric Roman Waugh, who previously worked with Butler on 2019's "Angel Has Fallen". Before its release on September 25th in the US, film opened in international territories in Europe and Asia, being the top highest grossing movie over the weekend in Taiwan, Singapore, Sweden, Finland, Norway, Switzerland, Estonia, Latvia and Lithuania.
Greenland will release in September in the US and UK but has shown to be a box officer winner in France where it opened on August 5 taking the No. 1 spot and performing better than Butler's most recent film Angel Has Fallen". Sweden, Norway, and Finland opened Greenland to similar results, opening in the top spot in their respective markets. Germany and Italy will release in October.
In addition to "Greenland", Caribbean Cinemas is releasing "The Big Ugly", the story about London mob bosses investing in a West Virginia oil deal in hopes of laundering dirty money, starring Vinnie Jones, Malcolm McDowell and Ron Perlman.
"The New Mutants", based on the Marvel Comics team is confirmed to be released on August 27th. In "The New Mutants", five young people who demonstrate special powers are brought to a secret institution to undergo treatments they are told will cure them of the dangers of their powers. The movie is expected to be the final entry in the "X-Men" franchise, the 13-film series that stretched from 2000's "X-Men" to 2019's "Dark Phoenix".
"The Outpost<https://variety.com/t/the-outpost/>," an Afghan war thriller, starring Scott Eastwood<https://variety.com/t/scott-eastwood/> and Orlando Bloom<https://variety.com/t/orlando-bloom/>, and "Search and Destroy" will also be released on August 27th. Christopher Nolan's much anticipated spy action espionage thriller "Tenet" is scheduled to be released on September 10th.
Health and safety protocols will continue to be observed for all employees and patrons during their visit to the cinema. Our new operational hours are Mondays through Fridays from 5:30pm and Saturdays and Sundays from 3:00pm. For more information about upcoming releases, visit caribbeancinemas.com<http://caribbeancinemas.com/>/paseoherencia.