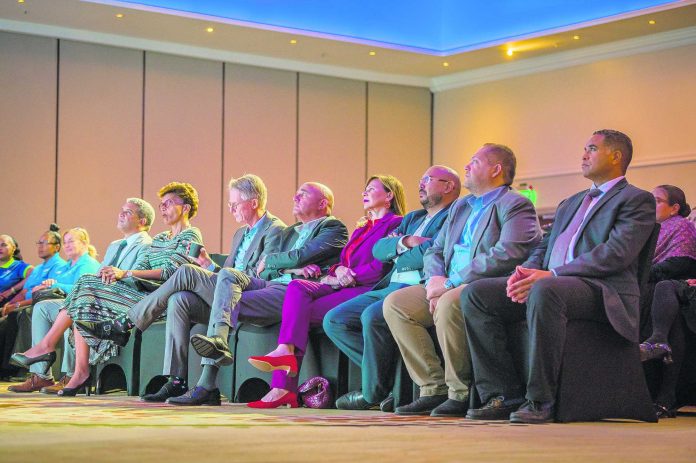 Tuesday, 27th of September was World Tourism Day, and on this day the Cruise Tourism Industry was also celebrated, as it is an important part of the tourism industry. Aruban minister of Tourism and Public Health, Mr. Dangui Oduber inaugurated the Cruise Tourism Symposium on Tuesday afternoon at the Marriott Ballroom.
During the symposium a variety of presentations took place with a diverse group of experts from Aruba and abroad. Guests came from Europe to take part in the Aruba Meets Europe Conference and at the same time were present for the cruise symposium.
The cruise industry in Aruba restarted in June of 2021, and expects a recovery of 80 percent by the end of 2022. Consequently, Aruba was part of the first destinations in the Caribbean for outbound cruises from the United States. Adding to this, recently the Port City project was announced, which is an investment of 500 million florins which will elevate the quality of cruise tourism in Aruba as well as attract more tourists.
The strategy for this industry is for Aruba to get more income from the cruise tourist who invests when they disembark on Aruba. According to a press release from the ministry of Tourism, the vision for cruise tourism also contains the four main points of focus for the coming years. These are sustainable tourism, development of the island, innovation and an island that is rich in data in order to asses and create plans and projects to elevate the quality of the product Aruba, and what we offer.
It is also worth mentioning that in 2023 there are various cruiselines that will begin arriving in Aruba, among others, Silversea and Seabourn, Virgin Cruises, Ritz Carlton Yacht Collection and Explora Journeys. All these are part of the strategic plan to diversify cruise tourism and generate more income for the country of Aruba.
Cruise tourism is an important part of Aruba's tourism and economy. Mr. Oduber thanks all stakeholders who made an effort for this event, creating a space in which different ideas could be exchanged and information was acquired. He also thanked Aruba Tourism Authority, which always is first in fortifying relationships and executing the vision for tourism in Aruba.