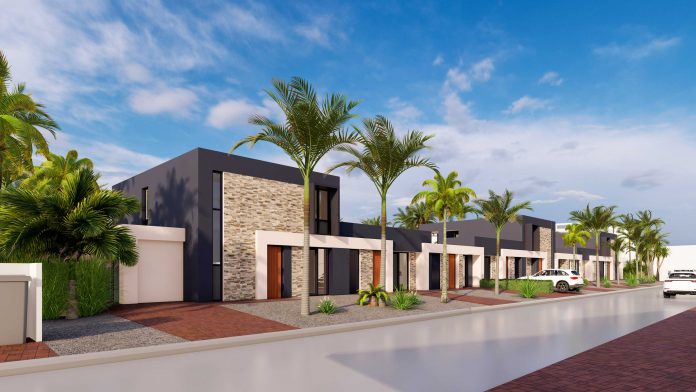 Within walking distance of the finest white beaches and the clear blue ocean, Tuscany Residence Aruba is founded in one of the best and most popular neighborhoods of Aruba, close to the shopping and nightlife of Palm Beach.  Tuscany Residence Aruba brings luxury living to a new level and they are very unique in their offerings with the Daimari Water Villas.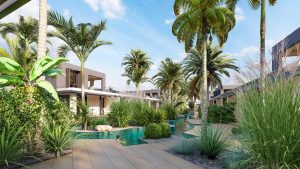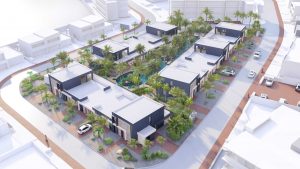 Around 180 exclusive properties will be built in all different sizes and prices, suitable for everyone's wishes and among them are 18 luxury Water Villas, all with a private terrace and direct access to the pool.  The Daimari Water Villas include 2 and 3 bedrooms with wardrobes, 2 and 3.5 bathrooms, are fully furnished with a fully equipped German kitchen, fully air-conditioned and with wide aluminum sliding door to the covered pool terraces. Balcony and covered terraces are offered on the 2 floors unit and a private parking in front of the unit or your own garage is all yours. 50% of these amazing houses is already sold! There are still 9 residences available, including 2 with a one car garage.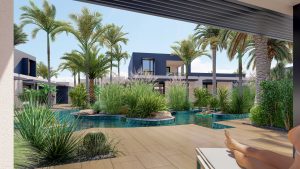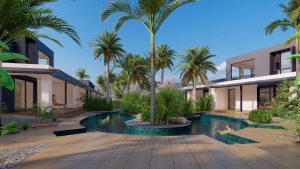 Tuscany Residences now offer a special pre-construction discount, whereby your advantage increases to 9.7%. Pre-construction prices starting at US$ 450,775 Turn-Key!
Dutch design
This luxury residential resort with various types of homes has many amenities such as swimming pools, restaurant, bar, offices, meeting rooms, gym, wellness and more. The combination of the beautiful Dutch modern international architecture and the Aruban palm trees creates a luxurious Aruban feeling and relaxed atmosphere in this resort. Tuscany Residence Aruba is the perfect choice for couples and families. Bas de Groot, Managing Director of Tuscany Residence Aruba adds, "We differ from traditional building, our design distinguishes itself." At 8 minutes' walk from Palm Beach, designed in a European style with high-quality materials, on property land and with buying possibilities from condos to townhouses to villas, Tuscany Residence is a dream comes true.
We take care of it all
De Groot adds, "Our project is in continuous construction which builds confidence. He continues saying that maintenance, property management, rental program and safety are taken care of. "You can log in from abroad and manage your property for rental or view your administration." The great thing about Tuscany is that it offers everything equal to a resort but you do not need to wait for an elevator to bring you up, worry about parking space or noisy neighbors. "We have got space and different size offerings making this more a community feel rather than a packed condo building." He also emphasizes that the location is one of the best on Aruba as it is quiet and close to Palm Beach.
Reasons to buy
Reasons to consider Aruba property ownership, at Tuscany Residence Aruba
Excellent price-quality ratio
Beautiful designs & Quality construction
Residential Park with all amenities
Property land on top-location
Varies properties in different price range
Onsite Maintenance Team, Property Management & Rental Program
Are you looking for a safe, quiet, residential area where you will meet a mix of local and foreign owners? Do you feel for a warm community with amenities like wellness, gym, restaurants, pools and this all within a structure where the residence takes care of your property management while you are not here? Can the highest European quality and solid working structure take away your preoccupations while you are home? Than meet us, we are here to convince you with quality!
For an impression of Daimari Water Villas have a look at the website: https://www.tuscanyresidencearuba.com/en/news. For more information please contact Bas de Groot by phone +297-7332424 or email bas@tuscanyresidencearuba.com.
Tuscany Residence Aruba
Salina Cerca 131, Noord, Aruba
info@tuscanyresidencearuba.com
(+297) 280 4664
(+297) 733 2424