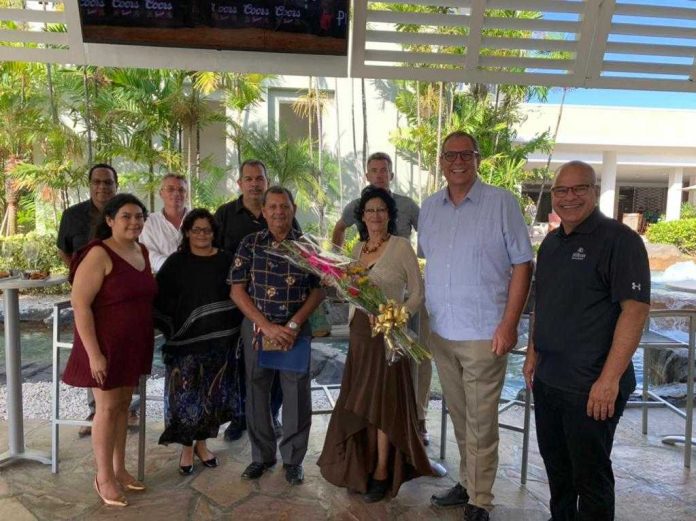 A young at heart, assistant bar supervisor, Jacintho Marianus Christiaans, recently retired from the Hilton Aruba Caribbean Resort & Casino. He was presented with a fresh flower bouquet, a letter of appreciation and gift at a small gathering at Mira Solo bar, in the presence of his wife Filomena, the couple's two daughters, Glenn Farro, Director of Human Resources, and Vasco Baselli, General Manager.
Jacintho "Chin" Christiaans worked for the resort for 32 years. During his time there he lived through many changes and challenges and has always risen to meet them, while exceeding the expectations of resort guests, who certainly will miss his drink mixing and social skills.
Both Farro and Baselli thanked their retiring Team Member and wished him good luck on his new, exciting adventure of being retired to enjoy well-deserved rest, hobbies and the company of family members.
Baselli spoke on behalf of the entire team. "I would like to express our sincere gratitude for the hard work and professionalism that you have demonstrated over the past 32 years at our beloved hotel," he said. "Your commitment and dedication have always been an inspiration to your colleagues, supervisors and managers, who will certainly miss working with you. You represent what has always defined this resort, the warmth and genuine hospitality of its Team Members. As you initiate a new chapter in your life, we congratulate you, and wish to extend a heartfelt Masha Danki, for a job well done."
Pictured here, a snap shot from the lively gathering over drinks and hors d'oeuvres as the Hilton bids his emeritus bartender farewell.