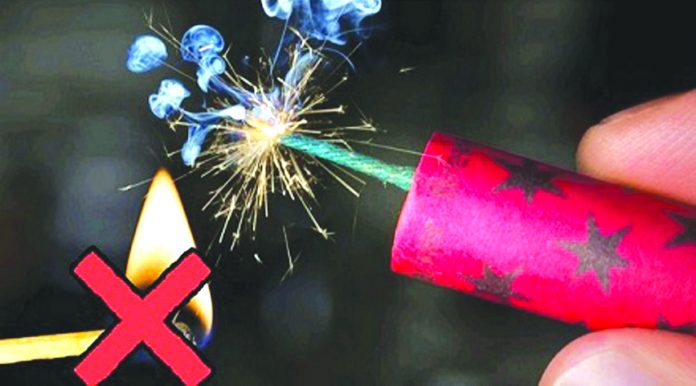 The Department of Public Health (DVG) wishes everyone a safe and responsible New Year's celebration.
They urge the community to limit their alcohol consumption during the festive days and be responsible when driving. They also urge NOT to handle fireworks when under the influence of alcohol.
The holiday season brings joy to many people, but keep the following in mind:
Do not allow unsupervised children to handle fireworks;
use ear protection, especially for children under the age of 14;
do not put fireworks in your pockets or backpack;
keep enough distance from fireworks when lit, at least 8 meters;
do not light fireworks in your hands; always light fireworks with the lighter fuse;
do not throw fireworks on others or near animals;
do not re-light malfunctioning fireworks;
do not experiment with fireworks;
when done, soak the area before cleaning up.
By following these recommendations, everyone can enjoy the end of the year safely and happily.
We should also look out for our furry loved ones. Loud unexpected firework sounds can scare even the most relaxed dog or cat. Why? Dogs hear sounds four times louder, whereas cats can hear sounds almost ten times louder than humans.
Some pets find shelter at home during the New Year's celebration, while many get desperate and flee their homes and the sounds.
Some dogs like fireworks and try to grab the lit fireworks with their mouths. These can cause burns that will require emergency vet intervention.
That is pet owners must be extra vigilant with their pets around the fireworks.
How to keep your pets safe around fireworks:
Keep your pets indoors at a safe location during the use of fireworks.
turn on a radio or TV to distract the pets;
stay close to them and keep them busy;
provide extra attention that they deserve.
The pet's fear can cause them to find a way out of the yard while trying to find shelter from the loud sounds.
There are some ways to find the pets back in the event they run away;
Make sure your pet has a tag on its collar with your information. It is advisable to have the pet microchipped at the vet.
A microchip will give your pet an identification number that can be useful when tracking if they runoff. When found, a vet can scan the microchip and locate the owner. Ask your vet if tranquilizers are optional for your pets. Tranquilizers need to be administered only if necessary and in the correct doses.
If the pet is not microchipped, take a recent photo of the pet to use if it is lost. Make sure the information of the Microchipped pet is accurate and up to date, including current address and phone number.
The DVG wishes Aruba a responsible end-of-year celebration and wishes everyone a healthy and prosperous 2023.