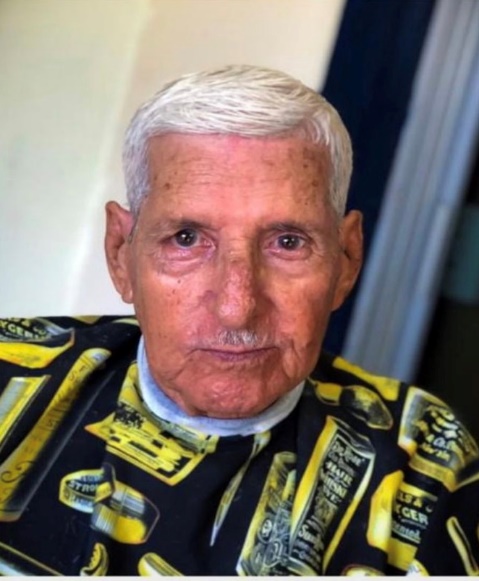 Mr. Eloy 'Loy' Koolman was born in Aruba on the 21st of September 1932, and passed away on the 11th of October 2022. Eloy was son of Juan Romualdo Koolman and Anna Clara Ras.
He lived in Rooi Koochi 10-A. Eloy married Nicolasita D. Wouters. From their marriage they were blessed with three children, Eloy Beltrando, Mary Madelene and Ester Maria. They gave them grandchildren and great-grandchildren.
After completing his basic and advanced studies, Loy went on to work in LAGO Oil & Transport Company Ltd. Lago shut its doors on the 31st of March 1985, and Loy completed 35 years of service.
In Lago he worked in the Petroleum Inspection section in the laboratory, and he advanced in different positions. Lago closed, but after that they hired him again for a short period in the laboratory.
Loy was a certified photographer and journalist, for which reason he also helped in the Department of Aruba Esso News from the Lago Company on various occasions.
Eloy's achievement and contribution to Aruba in general and Savaneta in particular are great.
In 1972, he was Manager of Conhunto Los Harmonicos and neighborhood leader for the MEP party for Savaneta.
In 1974, he was president of Olympic Flying Park in Rooi Koochi.
In 1975, he was president/vice-president of SV Racing Club Savaneta and president of Savaneta Boating Club.
In 1979, he was vice-president of SV La Fama; first president of Carnival Committee in Savaneta; first president of the Neighborhood Center Savaneta.
​He was a member of Aruba Volleyball Association; Aruba Spearfishing Association; Aruba Scuba Diving Association; Stichting Monument and Fundacion Betico Croes in 1986.
Loy was in the first group of Verkennerij of St. Hyacinthius Groep. He played football and softball for Savaneta in his youth. Eloy went on to Dande – Aruba's New Year tradition – for 68 long years, 40 of those with the same group.
In 1974, Eloy participated in the first Dande Festival in Conny Francis Club in Santa Cruz with Conhunto Los Harmonicos. It was a very beautiful start for Conhunto Los Harmonicos and for Mr. Harry Croes who began with the Dande Festival of Aruba in Conny Francis Club.
Back then, Eloy took part about six times. The first time he participated with Conhunto Los Harmonicos. The second time, they won second place. Back then, Mr. Fany Ras won first place, in 1975.
Later they continue participating and competing in the festival.
The one who always sang the Dande for the Conhunto was the brother of Mario Koolman together with Los Harmonicos. Afterwards they came with the Dande di tambu – drum Dande. Eloy said that Dande di tambu is in Brazil, they came with it. This didn't exist before, according to Eloy. What existed was the Dande of Pieter Leoncio Koolman and Anna Maria Noguera, and it was later that they came up with the Dande di tambu.
​This was a mother and child, and the mother was playing the drum and the child was singing and also playing the triangle of Ma Rosa, who lend them the triangle to play with them the Dande.
That's how the Dande was played back then, according to what Eloy told during an interview with the Department of Culture of Aruba. Afterward the fio was added, wiri, drum, accordion, guitar and other musical instruments.
And Eloy was always thankful to Mr. Harry Croes, who came up with the Dande festival that has been going on for many years already and it's been at least 48 years since Harry is with the festival. Nowadays, his daughter Jessica Croes continues with the Dande Festival of Aruba.
So Harry and now Jessica continue helping our culture and our folklore, because Dande is our tradition.
Eloy always stood for preserving our culture and that of the natives and Arubans. And if we don't take care of it, we won't have anything. At least this is what we can have as a memory, Eloy said during the interview.
In 1990, Eloy helped Savaneta get asphalt around the church and schools. Also, through gathering signatures for Rooi Koochi, Sero Alejandro and Yara, he managed to get light posts for these areas. Loy helped Savaneta get renovation for the kindergarten, Prome Paso Kleuter School as well as the gym.
In 1992 he was comisaris of the Volkskredietbank.
Loy was musician, composer and component of Trovadores Folklorico. The group recorded a CD with antique music. Savaneta is proud of this Savanetero, but Aruba as a whole remembers Eloy 'Loy' Koolman as a pillar of Savaneta, Cultural Pillar of Dande, and the Cacique of Savaneta.