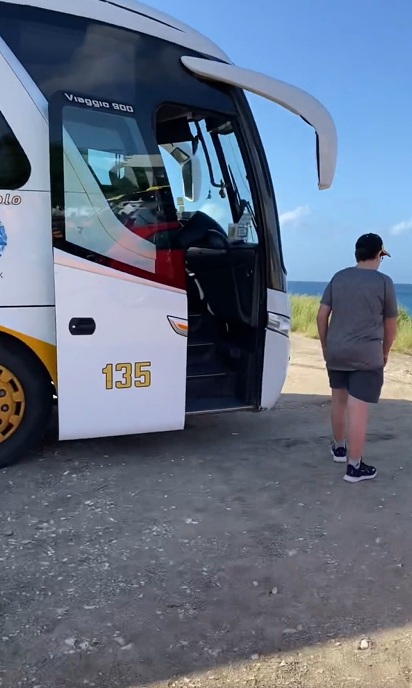 Yesterday a video circulating on social media showed a bus of a local tour company stopping in the area of Tres Trapi for visitors to get out and appreciate the beauty of the sea. This caused a lot of disgust because users considered that the buses are damaging the nature in the area.
A user posted the video on Facebook with a text expressing their disgust for what was taking place. "Really? You had to make Tres Trapi a stop for your massive tour buses? This little cove is now completely overrun (and congested) by multiple tour buses every day, spoiling the natural beauty and tranquility of the area", he posted.
"On top of it there's no space for your buses to park (or turn around), and their loud engines keep running while the tourists are gawking at the few swimmers and snorkelers as if they're zoo animals. You're damaging the Aruba experience with this tour stop at the fragile piece of our ecology. Please just keep driving by and don't stop here."
In the comment section of the video, which was viewed more than 4k times, local users joined in expressing their disgust? One user commented: "All companies need to sit together and make things run better than this. The government needs to wake up and make money available to make changes so that there is more parking spaces without the need to destruct our nature."
Another indicated: "There is a nature and environment department, there is a minster of Nature, but there is zero practice in place to protect the fragile ecosystem. The offices are just there for show, a lot of false promises and illusions. They cannot and will not bring change. The short-term economic interests of a few people are very powerful."
At the beginning of December, Aruba National Park Foundation (FPNA) held a press conference at Boca Catalina, which is close to Tres Trapi, to inform the local community about their concerns regarding Stony Coral Tissue Loss Disease (SCTLD). Contamination is one of the main causes for coral disease and it is very damaging for the environment in general.
Such big buses, aside from emitting a lot of CO2, are very heavy for the terrain on which they park, which is very fragile and can be damaged by this.