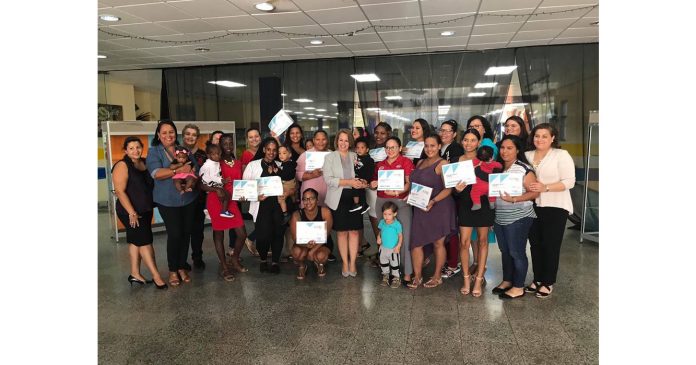 The 'Jongerenloket' (youth division) at the Department of Social Affairs is happy to announce the third successful completion of the project 'Road to Work". The project, which is under guidance of Kayla Haakmeester and administrative assistant Sheilah Odor, has as purpose to give an opportunity to young single mothers to not only acquire a job, but also help them in their personal development. This program results under the Social Crisis Plan which is sponsored by the government of Aruba.
The project focuses on single mothers who receive social assistance from the government. Their ages range from 18 to 30. Due to their situation they find it difficult to find a job. The 'Jongerenloket' offers these mothers education in different areas, intermediation and personal guidance, so they will be able to find a suitable work, become financially stable and stimulate active participation in the community.
The course, which consists of 14 intensive classes, starts with the learning project "Re-inforce, Empower and Assertiveness' facilitated by experts Marianela Loefstok and Madeline Ridderstap. They focus on personal knowledge, conscious auto perception and social skills. Afterwards the participants get the opportunity to share their thoughts, define their personal goals and describe their plan of action to join the labor market. This helps them discover their potential and loose personal barriers that prevent them from progressing.
All the participants received an official certificate in the presence of the Prime Minister of Aruba Mrs. Evelyn Wever-Croes, representative of the Ministry of Social Affairs and labor, Ministry of Tourism, Health and Sports and leaders of the project. All participants were very motivated and are ambitious about their future.
'Jongerenloket' and the Social Crisis Plan project would like to thank the National Library of Aruba and all departments involved for their contribution to this project.
For more information you can contact the youth division at the department of Social Affairs at 528-1100.q