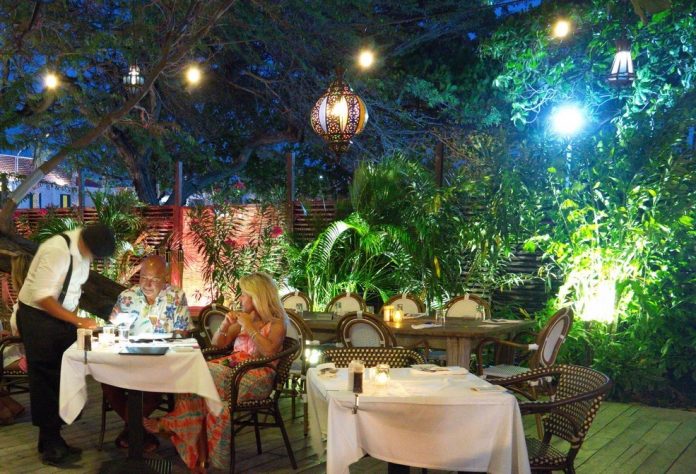 Bohemian Restaurant is different, unconventional and a rebel with a cause. The cause is to make you feel king in this hidden garden with outstanding dishes that connect you to the European liaisons of Aruba. Thursday and Friday night they take you a step further and surprise you with a full entertainment Marrakech theme while you indulge in the culinary delight of Arabic food.
A garden full of strong trees and dressed up in New York-style industrial-look elements creates a cosmopolitan vibe while at the same time the tropical breeze and outside dining connect to the Caribbean. Waiters with French barrettes and pant suspenders service you with a happy and loose style. Imagine this scenery spiced up with some Marrakech flavor!
Enchanted.
You will be enchanted by the magical belly dancer while being served with the best dishes from around Marrakech, Morocco. Most people think couscous is wheat semolina but it's just part of it, it's a lot more complex and this is the night to try the family recipe of the restaurant owners: Couscous Royal.  An exquisite blend of beef, lamb, meat balls, carrot, zucchini, turnip, cabbage, pumpkin and chickpeas are slowly cooked in a bouillon and spices and served on a bed of steamed semolina wheat. Another delicious dish is the grilled lamb chop and merguez or what to think of the tagine with chicken and dry fruits? "Ganaouia" is another family recipe with beef and okra and of course there is the humus and Babaganoush. Built your own Fata Morgana, there are no limits.
The beautiful garden of Bohemian will be filled with lights, good food and live entertainment in an intimate, hip and offbeat ambiance. Don't miss out on this one-time opportunity to experience something different. Reservations are strongly advised!
Bohemian Restaurant is a different swing, European flair and outside dining, a place from the same owner as the for years already successful Casa Tua restaurants. They know their dance well, but this time they lift it to a different level.
Bohemian is located between the Hilton and Barceló. Free Parking is available at the parking lot in front of Barceló Resort.
Make your reservations through their website:  https://bohemianaruba.com. Call them at 00 297 280 8448. Facebook: Bohemian.