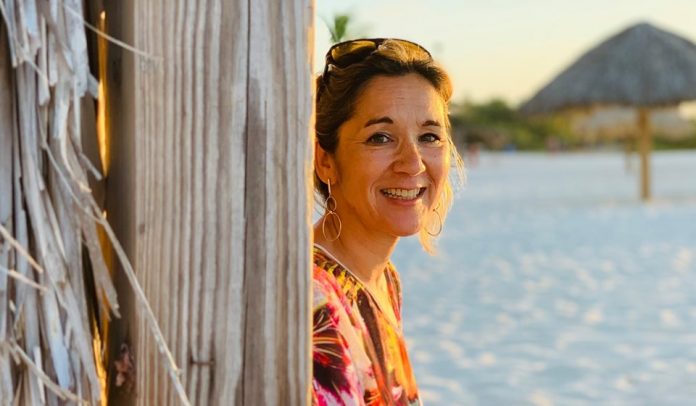 Liesbeth Jusia from Amsterdam, international medium and legal counsel from the Netherlands, is hosting an evening of mediumship, a workshop personal/intuitive development and private consultations. After a successful first edition in Aruba she is back on the island to give a workshop about understanding the powerful aspects of awareness and intuition and how to use your power and intuition in daily life. "My life has always been about betterment of self and others, in my private as well as my professional life. I do wish to emphasize that I am a down to earth type of medium and working in a commercial business world as well."
Our intuition is one of our most important assets in life, but for some reason we undervalue this capacity within ourselves. We also but half express ourselves. Which is a shame: not only does it help us make decisions that can shape our lives in a way that really fits our potential, it also enhances the connection with ourselves and the people close to us: family, friend and colleagues. Even better: broadening your range of perception will open up a world of inspiration, knowledge and support. You need to dig and delve deeper to really understand who you are and what you are capable of. That way you gain a stronger sense of self and understanding of your potential. It will help you to become more confident and to learn to trust that part which is too often neglected. How many times haven't you thought: "I knew it!" but you didn't act on it? That was a moment of simply knowing, but for some reason – most of the times lack of confidence and distraction by others or situations – you ignored what YOU felt. Once you start to value and trust yourself, you will understand the power that is within you and how to use it. You will live life differently: it promotes well-being and enables you to manifest things in your private and/or professional life (on an emotional, spiritual, physical and material level) for you and others, because you'll live more consciously and according to your nature. In the end you can't deny who you are. The more you focus on you, the less the outer world will affect you.
Who is Liesbeth.
Apart from being a spiritual adviser and accredited medium, Liesbeth has over 30 years working experience in (international) commercial organizations, of which she worked as a legal counsel for over a decade. She holds a master of laws degree, with minors in (extended) criminology and forensic psychiatry. Human behavior always fascinated her. As a tutor and spiritual adviser she focuses on awareness and personal development. A stronger awareness promotes a stronger sense of self, resilience, self-reliance, overall well-being as well as a stronger, deeper connection with self and others. In 2008 she published a book about the suicide of her partner, afterwards she volunteered for the Dutch suicide prevention helpline for two years, for which she completed the masterclass suicide prevention at Vrije Universiteit Amsterdam. In October 2014 Liesbeth was one of two guest lecturers at the Amsterdam Business School speaking on "intuition and passion in entrepreneurship". For the past five years she has been a volunteer coach, coaching small groups of high school students in Amsterdam. Liesbeth has been very intuitive her whole life and the – sometimes incredible and amazing – experiences made her explore and study these phenomena extensively at the Arthur Findlay College in Stansted, the world's foremost college for the advancement of psychic sciences and spiritualism. In April 2014 she attained the accreditation of the Spiritualists' National Union (UK) for demonstrating mediumship. She is a no nonsense, matter of fact person, which shows in her work as a tutor and medium. Whatever she does, she does it in a down to earth way, with love, compassion, joy and humor.
Liesbeth will run the workshop "The Power of You" on Saturday October 26th from and an evening of mediumship on Tuesday October 29th (both events at MFA Noord). More info: www.liesbethjusia.nl. q