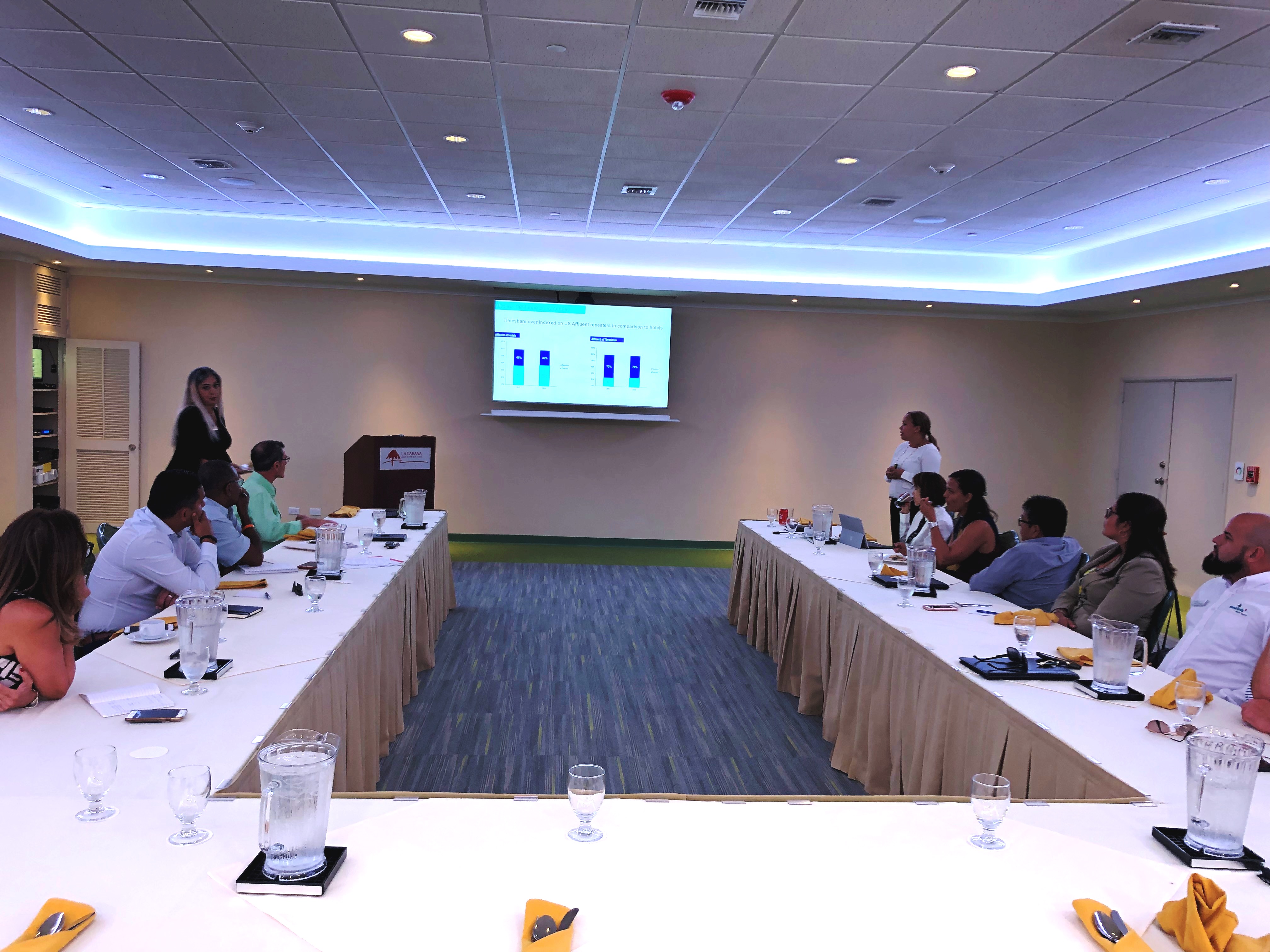 Palm Beach — Ronella Tjin Asjoe-Croes, CEO, Aruba Tourism Authority accepted the invitation of the Aruba Timeshare Association to participate in the monthly March meeting, and to make a presentation to members based on Aruba's Timeshare Profile and Guest Experience Index, for the period of October 2017 to October 2018.
The document was prepared in order to enhance corporate communications with stakeholders, Tjin-Asjoe explained, and to allow each individual hotel a detailed overview of its performance in comparison to other timeshare properties.
The information for the presentation was derived from a study of immigration cards and exit surveys filled out by stay-over guests upon departure, which was compiled into a comprehensive document.
Luigi Heredia, President ATSA, and the general manager of Costa Linda Beach Resort extended Big Congratulations to all resorts as the Timeshare Satisfaction scores for 2018 came in very high. In the study participants were asked to rate the accommodation property they stayed at on how this property performed on friendliness, cleanliness, security, accessibility, professionalism, amenities and price value on a scale of 1 –6, and the score earned by the Aruba timeshare properties came to 5.51 which is the equivalent of 91.83% satisfaction, with the top 3 categories being Friendliness, Cleanliness and Security.
As is the case with all visitors to the island, March and July were peak months in the timeshare properties here, and YTD October 2018, the timeshare resorts hosted a 27.8% share of total visitors to Aruba, VS the hotels that hosted 51.8% of total visitors. And as expected visitors staying in timeshare resorts stayed longer than those staying at hotels.
Similar to the hotels the great majority of timeshare guests hailed from the USA, 84%, and most of them arrived here from NY, Boston and Philadelphia.
As far as the Timeshare Guest Experience Index, based on general guests' perception and online reviews, that number reached an impressive 86.67, and was based on a total 2,822 reviews.
The ATSA was pleased to hear that timeshare continues to index higher overall satisfaction scores in comparison to hotels and all-inclusive properties.
Tjin Asjoe-Croes remarked: "We are grateful to the Aruba Timeshare Association for the continued dialogue and exchange of information. With a close to 30% of Aruba's visitors staying at a timeshare property, this sector has been and remains critical to Aruba's tourism as well as economic wellbeing. Satisfaction / Guest Experience scores are above average. Keep it up! In saying this, it is acknowledged that the sector is to continue to evolve in line with changing consumer behavior. Balancing the needs of our current visitors with that of future travelers remains a top priority."q