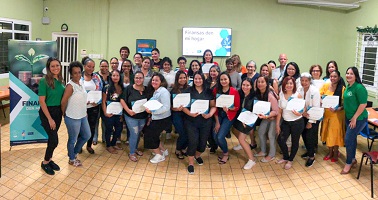 On December 5, 2022, a group of participants of the first "My Finances at Home" workshop received their certificates.
In Aruba, 3 out of 10 households spend more per month than what they earn, according to a Central Bank of Aruba study. It is a worrisome trend because it indicates that these families struggle monthly with their financial responsibilities, such as rent, food, and loans. As a consumer, it is essential to know the impact of every financial decision made on available resources and the household.
"My Finance at Home" teaches finance and is offered free to the community by the Ministry of Economic Affairs, Communications and Sustainable Development in partnership with Fundacion Plan di Bida.
The first workshop took place in Paradera and consisted of 4 sessions on the following topics:
Session 1: I am effectively at home. How can I save and buy without emotions
Session 2: I pay my debts. What happens when I can no longer pay off my debts;
Session 3: I invest in the future. Our future and our children's future are important as how to achieve our goals;
Session 4: My budget. What are luxury and priority, and how to budget based on your income and achieve your goals.
The next workshop will be held in San Nicolas in 2023 and is also free.
Minister of Economic Affairs, Communications and Sustainable Development, Geoffrey Wever invites anyone interested in this workshop to apply as capacity is limited. For further information, contact Fundacion Plan di Bida at 5688848 via email finansasdenmihogar@gmail.com.