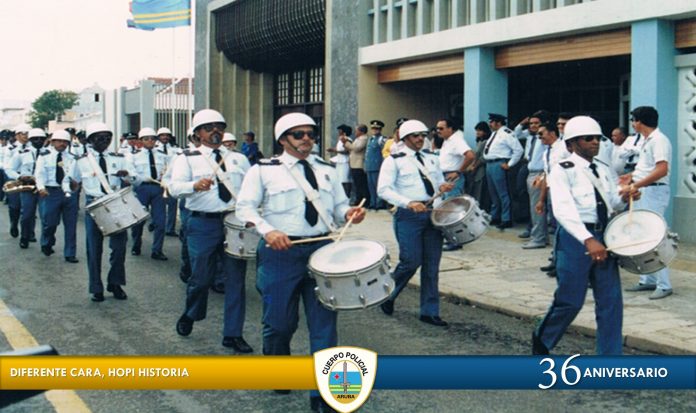 36 years ago in 1986, Aruba got its Status Aparte and founded the Aruba Police Force.
The Police Force counted merely 200 police officers from all ranks, and the majority were from the former Netherlands Antilles. Chief of Police Mr. Ronald Peterson had the task of setup the Aruba Police Corps for Aruba in a different constellation of the Dutch Kingdom.
The Police Force had a few female officers from the very beginning. These were Mrs. Marlen de Cuba-Giel and Mrs. Gerda Williams. The new Police Force had its headquarters built in Oranjestad, where the Wind Creek Renaissance Marina Hotel is situated, and one in San Nicolas. These were the two official police stations after 1986. Since then, the Police Force of Aruba started to improve and grow, underwent changes, and the organization became larger.
With hard work and determination, the Police Force of Aruba was founded, crawled, and matured into the current Police Force. In 2022 the Police Force had about 600 employees, mostly police officers and administrative personnel who serve and protect the Aruban community. Now the Police Force has men and women in uniform stationed in 4 precincts; Oranjestad, Noord, San Nicolas, and Santa Cruz.
Over the past years, the Police Force had different special units, Motorized Unit, Canine Unit, Arrest Team, Riot Team, Diving Unit, Coast Surveillance, Helicopter Unit, Surveillance, Team Narcotics Houses, Organized Crimes Unit, and the Detective Department.
Over time, the Aruba Police Force has created a well-respected reputation by international justice entities such as the Interpol, DEA, FBI, RCMP, Force Protection Agency, ACCP and the IACP. The Police Force is also closely working with several Police Departments in the Netherlands like Police Corps Rotterdam, Police Force Rijmond, KLPD (National Police Force), RST (Criminal Investigation Team), Police Force Curacao, Police Force Dutch Caribbean, and many others.
The Aruban community can be very proud of having its Police Force s celebrating its 36th anniversary. These are 36 years of growth, dedication, and determination. Congratulations to all current and past members of the Police Force. Thank you for your commitment and passion for protecting and serving the community. The community is grateful to the families of these police officers as well for their understanding, patience, and support for each Police officer.