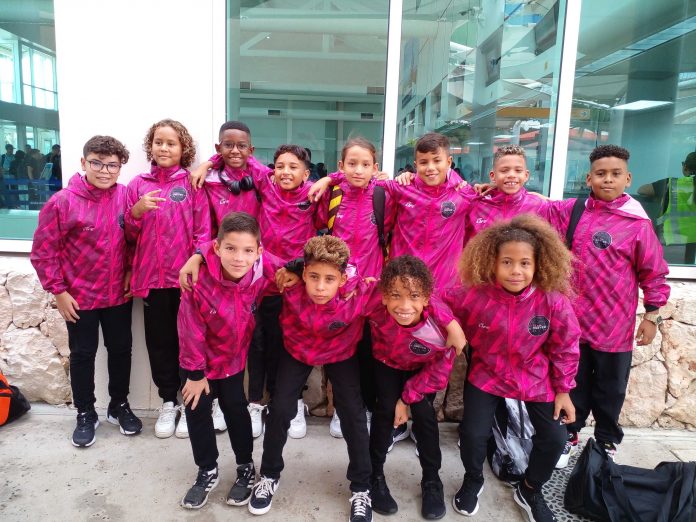 This week, Team Dreyer departed from Aruba to Colombia for the Future Soccer Cup (FSC) tournament. Jimena Borja, coach of Team Dreyer U11, told our reporter about this trip, during which Team Dreyer will be representing Aruba at the tournament.
Borja said that the purpose of the tournament and the journey is for the kids to experience a bit of what international soccer is and for them to see another level of play outside of Aruba. "We believe that it will be very beneficial for us, because the kids will see what the level of South America is, and when they come back they can share that with their club mates. They also need to continue working hard to continue receiving opportunities like this", she said.
Team Dreyer is going to Colombia with a total of 14 children in the category of U11, which are 9 to 11 year old kids who have stood out in their soccer clubs. Team Aruba will have games against the club Envigado of Colombia, which is a big and famous club in the Latin American country. They are known to produce players like James Rodriguez, Fredy Guarin, Quintero, and other important players for Colombia.
"This is a good opportunity for us as a school to continue growing and motivating the kids to keep working hard", Borja pointed out.
Borja explained that the invitation for the tournament arrived about four months ago, and the kids began their preparations shortly after. They trained in tactical, technical and physical as well because the games will be very taxing.
"The kids train with us and their club constantly, and most of them know each other which for us is very good. It's not the same going with a teammate who you've known for a year already versus one that you met a month ago. This will be very good for the kids to experience", she pointed out.
The invitation for the tournament came through Borja herself, since she has contact with many people in Colombia, and because the school is well organized and they know that she is coordinator in Team Dreyer, the invitation was extended.
Team Dreyer is a technical school. Borja explained that the difference between them and soccer clubs in Aruba is that they train technical skill. Team Dreyer is focused on the development of the children's motor skills, and they spend a lot of time working on the motor and technical skills. "We know that this is very important to reach a higher level, and we focus a lot on that", she said.
Team Dreyer trains children in categories U5 to U17, and depending on their category, they work on what they need to put more focus. For example, small children focus on having contact with the ball. "The main focus for Team Dreyer is for them to develop technical aspec, and we don't go a lot in tactical because we know that that is done at their club, and we respect that", she added.
To finalize, Borja thanked the parents of all participating children for their support, as well as their sponsors. "Without their support, this trip would not be possible."