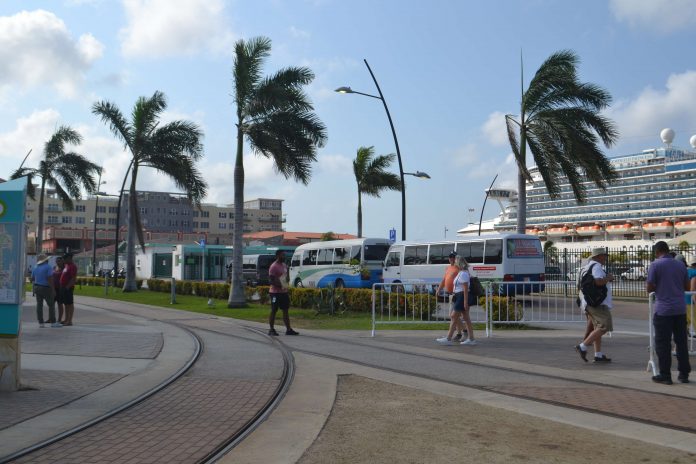 (Oranjestad)—It is no secret that a few tour company workers quarrel amongst each other at the shipping dock when it comes time to gather tourists for tours around the island. Considering the fact that the building in front of the dock—previously occupied by the Department of Public Works (DOW)—will soon go under renovations, a question has emerged on whether there will be more regulations implemented to control the situations taking place on the dock.
The director of Aruba Ports Authority, Mark Figaroa, stated during a press conference Monday morning that the organization will be reviewing the complaints filed in connection to tour company controls around the times when new cruise ships dock.
"We understand that there are various challenges concerning this topic, and we are currently working on various plans in collaboration with an established task force (Cruise Tourism Task Force). Thought this had not been properly organized during the pandemic, the operation is now back on track and the team is working to pick up on their operation and to improve it. The task force consists of various stakeholders, including the police corps and ATA. They all are a part of our efforts in searching for the best solutions for this dilemma," Figaroa assured.
The confrontation between company operators in front of tourists because of pricing can leave an ugly view of the island. In the soon-to-be newly-renovated building, there will be an Information Center, where tourists can find information on Aruba's culture, top visiting sites and more.
Figaroa also mentioned that they are currently discussing with other stakeholders concerning the fights surrounding pricing. They know that this issue is prevalent, "but we have certain projects in the pipeline that will be dealt with and where we can look for a solution to minimize and even avoid these types of confrontations," he stated.