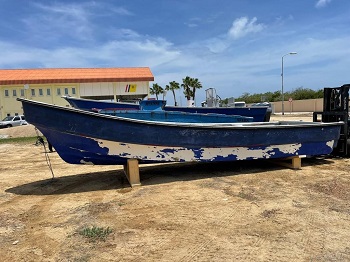 ORANJESTAD – The prosecution will proceed with the sale of a dozen boats stored at the Marine Barracks in Savaneta on Friday, March 24, 2023.
These are boats taken into custody by the Coast Guard. These boats no longer need to be kept and will be sold to the highest bidder. As with the sale of the boats in previous years, you must register in advance with the Prosecutor's Office.
In doing so, you must adhere to the following:
You can register with the prosecution at ann.angela@omaruba.aw until Friday, March 17, 2023. In addition, you can call Ms. Angela at the OM at tel. 521-4135. After March 17, 2023, registration will be closed.
When registering, please include your:
First name
Last name
Date of birth
Country of birth
Identity number (from your identity card, passport, or driver's license)
Phone number.
Only persons registered with the OM may report to the barracks gate at 10 a.m. on March 24, 2023, to view the boats and submit a written bid for the boat of their choice. You must have with you the ID you provided when you registered. If you do not have it with you, you will not be allowed entry. Children will not be allowed to enter.
The OM will notify the highest bidder per boat as soon as possible. After that, they can pay by transferring the amount. Payment is only possible by bank transfer. Swiping or cash payment is not possible.
Buyers can pick up the purchased boats upon presentation of the receipt of the payment of the price, the purchase contract, and the buyer's identification. The OM will notify the buyer of the date they can pick up the boat. The OM does not guarantee the condition of the boats. The sale is "as is where is. The buyer is responsible for transportation.