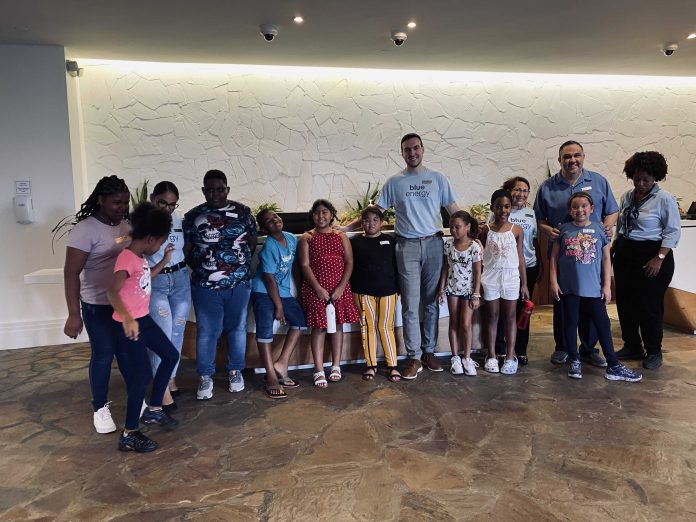 On August 11, 2022, the Blue Energy Committee at Hilton Aruba Caribbean Resort & Casino welcomed 40 children of hotel team members to enjoy a day at the resort. The intention was to expose youngsters ages 5 to 14 to future job possibilities, experience their parents' workplace, enjoy guest amenities, and emphasize the value of education.
The children started the day with a light breakfast at the Morris Lapidus Ballroom, followed by a grand tour of the property. The group was divided into four groups and each participated in different activities planned for the departments of engineering, housekeeping, front office, kitchen, and spa & recreation.
The kitchen department, under the supervision of Chef Olivier and his team, prepared a fun and educational setup at Sunset Grille, where the children were taught a few techniques of cookie decoration. The children were delighted with a variety of toppings and were eager to show their final product to their parents.
At the Engineering department, Nephtaly Croes and her team had prepared a DIY flower pot painting and planting activity for the kids. Our young artists were inspired by the colors letting their imagination create beautiful and colorful pots. After the painting, the kids fill the pots with seeds and soil and let them dry for a while before taking them home.
Nelson Winklaar received the kids with a warm welcome at the front desk where they learned about the department and resort amenities. Next, the groups met Jessica Roberts with the Housekeeping department, to conduct a room inspection where they experienced a broad picture of housekeeping duties and responsibilities, earning a new respect for the profession.
Lastly, the spa and recreation team divided the 4 groups by age. The kids from 5 to 9 years old, under the leadership of Lisa Dammerman and her team, participated in a cupcake decoration activity while the children ages 10 to 14 were taught to make their own Aloe Scrub. Both activities are part of the hotel's weekly guest activities.
The children were very happy and enjoyed all of these activities immensely, but they were also enthusiastic to be at their parent's workplace. The happiness and joyfulness of the children was contagious, infecting our team members with immense child-like energy!
After the department visits the kids headed back to the Morris Lapidus Ballroom to enjoy a delicious lunch prepared by our exceptional culinary team. Later the team at Hilton Aruba together with Reach Your Goal foundation prepared an afternoon of games.
"While they all had a great time," said General Manager Vasco Baselli, "the day also served as an initial opportunity for career exploration, as kids got to see their parents in professional roles, in an authentic environment. We were very thrilled to have all these kids at our resort and we look forward to welcoming them again!"