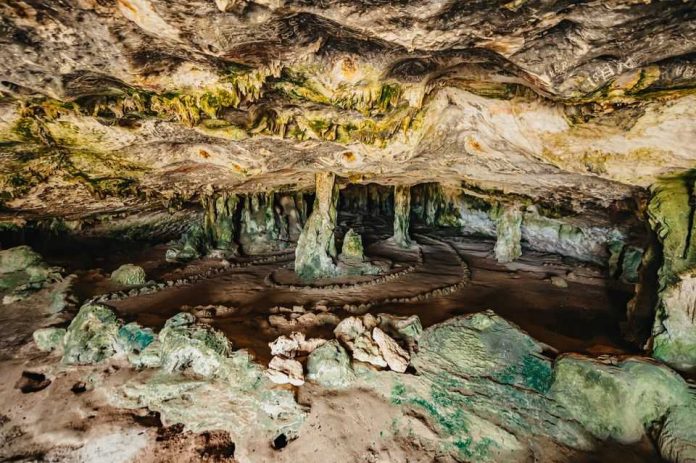 Enjoy gorgeous vistas of Aruba's rugged terrain, desert-like hills filled with tall cacti, a breathtaking coastline and protected local flora and fauna. Aruba's national park's staff is ready to welcome and guide you throughout your visit to the National Park. They are open daily from 8:00 am to 4:00 pm, a valid Conservation Ticket or Annual Pass is required to access the National Park.
Arikok National Park hosts a variety of habitats. The main eco-type is the xeric scrubland. Candelabra cactus are scattered across the landscape, along with thorny bushes. During the dry season many of the plants lose a portion and sometimes all foliage. Plants that keep foliage usually have other adaptations to maintain moisture and limit evaporation, for example thick leathery leaves.
Fontein Cave
This limestone cave, popularly known as Fontein Cave, is an important archaeological site as well as a good example of the geological history of the limestone terraces. Inside the cave, visitors can find many Indian pictographs that date back to about 1000 years. Along with the ancient drawings, more recent carvings have been left behind by colonial visitors some dating back to the early 1800's. The caves are open between 9:00 am and 4:00 pm. During your visit help us protect our national park by following our rules and regulations.
Miralamar Hill
A short hike from the Visitor Center brings you up to the Miralamar Hill. As you walk to the top you follow a trail lush with vegetation. At the hilltop lays the ruins of the Miralamar Gold Mine Complex. On this particular location mine shafts ran underground where gold was extracted in rock ore and processed where it was transported afterwards to the Gold Smelter at Spanish Lagoon.
Cunucu Arikok
This site recalls Aruba's agricultural past. Different types of plants were cultivated at this site. An old farmhouse made from adobe is a remainder of those times. Cactus hedges and stonewalls were built to protect against goats, sheep, and donkeys.