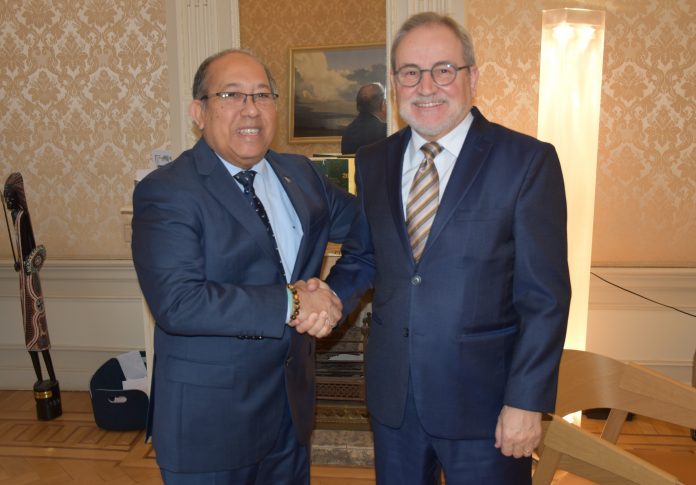 THE HAGUE – Ambassador of Switzerland to the Kingdom of the Netherlands, Heinz Edmund Walker met with the Plenipotentiary Minister of Aruba in the Netherlands, Ady Thijsen regarding his upcoming visit to Aruba.
Ambassador Walker in his official capacity visited Aruba and the other Caribbean countries in the kingdom four years ago, and is now interested in the current situation in Aruba.
Minister Thijsen informed Ambassador Walker that Aruba's tourism is recovering very well after the pandemic period. At the same time, minister Thijsen pointed out that the pandemic showed that Aruba needs to diversify its economy and come up with other economic pillars.
"Tourism will always remain as the most important economic sector for Aruba. Currently the government is searching for opportunities to reopen the refinery, but if this is not possible, we will need to think about introducing another type of industry. Aruba also needs to attract more tourists from Europe to balance the flow of American tourists. This is why we are pleased with the British Airways flights from London Gatwich that will begin in March," Thisen said to Walker.
The minister also mentioned that Aruba is trying to stimulate the agricultural sector in order to produce more fruit and vegetables in Aruba, both for the local market as well as to supply the hotels.
Walker mentioned that in Aruba he will be meeting with, among others, minister of Tourism, Dangui Oduber. He thanked minister Thijsen for the information which will be useful for his upcoming visit to Aruba.
Photograph is courtesy of Arubahuis.