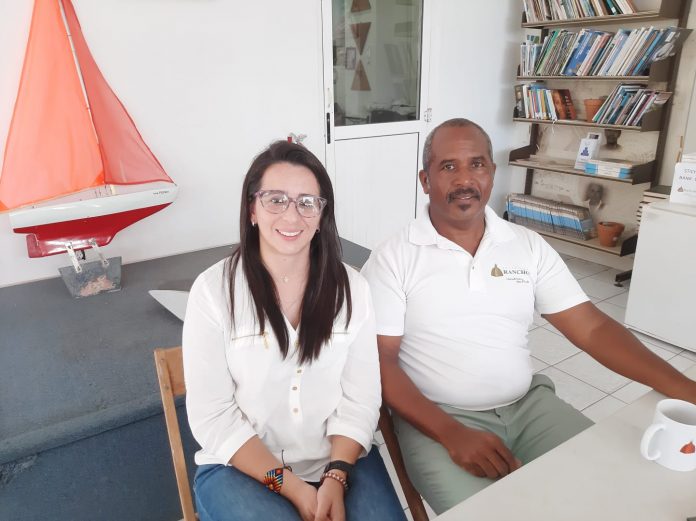 Last Wednesday, the Rancho Foundation brought up a few problems that are causing disturbance to the area of Rancho. With this, a project has been proposed in the effort to come up with solutions in the future.
Since 2018, president of the foundation, Clifford Rosa, stated that it appears that some things have gone right, while others have not, and that they are thankful for the period of Aruba Doet, in which neighborhoods were cleaned, and where the caulk oven was conserved for 'Monumentenfonds'.
Last year, they realized that maintaining the area of Rancho is hard to keep up with, seeing as there are constantly waste being thrown on the ground. They emphasized that the area needs a cleaning, especially since the closure of the waste facility at Parkietenbos.
Rosa further explained that they were approached by various organizations in Colombia that do recycle work. He mentioned that they have met a couple times to talk about the project and the waste problem that needs to be solved.
"Seeing as we want a program that will take us to the celebration of 200 years of Oranjestad in 2024, we want to make sure this neighborhood is completely clean," Rosa assured.
The foundation presented the project called "Waste Management for Rancho Oranjestad Aruba" in collaboration with the Colombia organization 'Quos', which specializes in the processing of both solid and liquid waste. The foundation wonders what could be possible in the processing of water.
"For the Rancho Foundation, this is a new initiative in the context of working with different organizations for different proposals, like national activities and investigations for the culture and the education of the Aruban culture, including the processing of waste and recycling."
At the same time, he pointed out that "we have a culture that is used to piling all kinds of waste together and that is a problem that is internationally frowned upon. It is incomprehensible how we put everything in one bag and throw it away. That is the part that we want to educate the community about; the change of mindset towards a direction that is possible for all of us."
This is for the goal of reducing waste processing, seeing as Aruba already meets the international requirements. There are also goals for sustainable developments where they focus especially on goal number 17, "Colaboration": "At this moment we are asking to collaborate with companies and the media to spread information on what can be done and where we stand today in terms of waste management for Rancho and Aruba," Rosa commented.
Marcela Maria Sanchez, director of social responsibility at 'Quos' explained that they are experts in the treatment and reuse of solid Urban waste in Colombia. They came to Aruba to do an analysis of the situation concerning waste on the island; from those that start at home, the system of waste transport and the final processing.
"In our 6-year experience, we make end products with solid waste that arrive at waste facilities, and we would like to make a proposition for the reuse and transformation of products, which we are currently distributing in Colombia," she said.
The main message that they want to spread is that it is necessary to understand that solid waste is a part of every-day life, and that we as humans need to integrate them into our lives and not see them as the enemy. Instead, we should focus on how we can reuse and restore them and integrate them back into the chain of production by way of a circular economy with the aim for sustainable developments.
During this first visit, they were informed that they will be conducting analysis of documents and statistics with the help of companies, and their allies, Rancho. They calculate that they will have a preliminary proposal in about a month and a half.
The next step involves Aruban companies and government organizations traveling to Colombia in order to see Quos' plantations and operations they have with the biggest public service company in Colombia, so they can "establish a plan, how to execute this plan, join forces and make use of the waste on the island," as Sanchez mentioned.
Plastic bottles are used to make threads for sowing shirts, shoes, or wood: "This is to change the view on plastic as the enemy. Instead, we should see it as a tool and convert this into something sustainable and reduce waste," Sanchez affirmed.
"Plastic waste bags can be reconverted into waste bags: "We produce them, they leave the factory and come back to the plantations with waste," she continued.
With this, they hope to reduce the impact that waste has and give support to the population that is vulnerable to these waste. Colombia has a history of conflict for more than 60 years, leaving many victims that work at the organization injured.
To finalize, the Rancho Foundation is interested to see this project be actualized with their partners on Aruba, like Plastic Beach Party. However, there are more organizations that already have the desire for progress, with whom the foundation will discuss in the upcoming weeks.