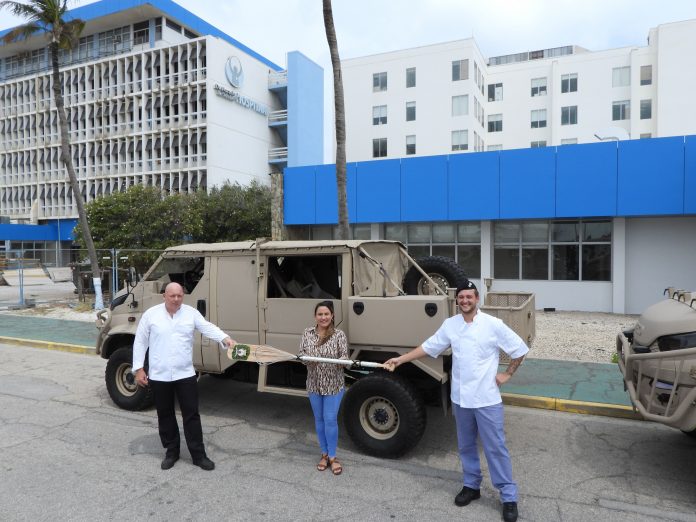 The kitchen crew from the Dutch marine base in Savaneta has prepared more than 1700 meals for our Food Bank last week. The marines were in a two-week quarantine after taking part in an international naval exercise and used their isolation time to help local community. Now they need their capacity again on the base, but the Food Bank is not left alone as the hospital is taking over the marine's task.
The Dr. Horacio E. Oduber Hospital will prepare 200 meals a day which will be donated to the Food Bank. They will do this from April 6 to April 12 and the marines will take care of the transport to the Food Bank. "In these hard times we need to make the best of it. We do this for and with each other. It is fantastic to see that the initiative is carried on by our hospital. We can only hope that more companies are inspired to do good, together we will make it," says the marine's communication representative.
One of the tasks of the Dutch military defense in the Caribbean is to support local authorities. In the case of a request of assistance by one of the islands, the military will support local police forces to maintain public order and safety. The marine base cannot stress enough for people to stay home and keep to the measures taken by the government. Only together we can fight against COVID-19.
 About the Food Bank.
Fundacion Pa Nos Comunidad (FPNC) is a foundation that supports vulnerable groups and voluntary initiatives in the Aruban community. There are more than 800 families registered at FPNC however we are well aware that there are more families on Aruba who struggle to fully meet their basic needs.
FPNC will try to bring all organizations and foundations together to focus on avoiding and fighting poverty, emotional distress and social exclusion in the largest sense of the word (independent of the nationality, religion and culture), to gather funds and financial means to finance these initiatives and to promote the poverty care and the complete welfare.
FPNC's major project is the national Food Bank; storage for food products, clothing, furniture and other basic needs articles. At the same time they avoid waste of food and products.