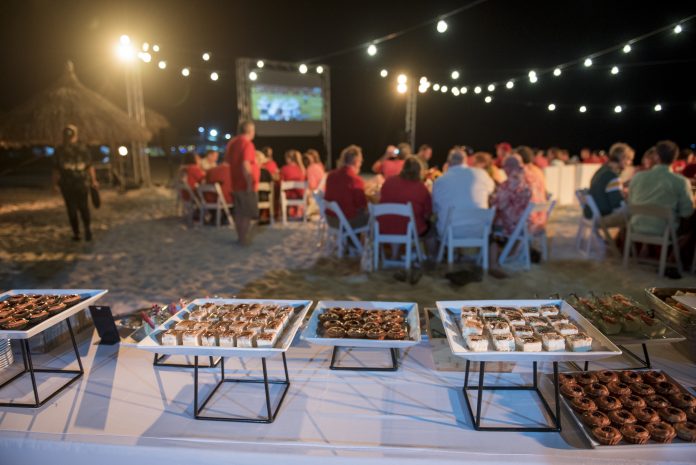 The championship game between the San Francisco 49ers, and the Kansas City Chiefs will be projected on Aruba's largest screen, floating in the water, on February 2nd, on the beach at Hilton Aruba Caribbean Resort & Casino.
Football fans may watch the game from the comfort of their seats on the beach, with lounge chair or table seating available.
While the 49ers hope to win their sixth Lombardi Trophy, which would put them in a tie for the most Super Bowl wins in NFL history, the Kansas City Chiefs, are sure to give it their utmost, seeing that they made it to the Super Bowl for the first time in 50 years. And this year's crop of spectacular commercials is said to command as much as $5.6 million for a 30-second spot in the game.
Hilton Aruba Caribbean Resort & Casino is offering $22 per person event-tickets which include seating, two welcome beers, nachos with dip, specials on local beers, Bud Light, and favorite, plentiful stadium fare.
The resort is gearing up for efficient food & beverage service during the game and the Super Bowl famous Pepsi halftime show with singers Jennifer Lopez & Shakira.
Because of the high viewership, get your tickets early, they will be available from January 29th, in the Aruba Tower lobby from 12noon to 5pm.
Don't miss Super Bowl 2020, live from the Hard Rock Stadium in Miami Gardens, Florida.