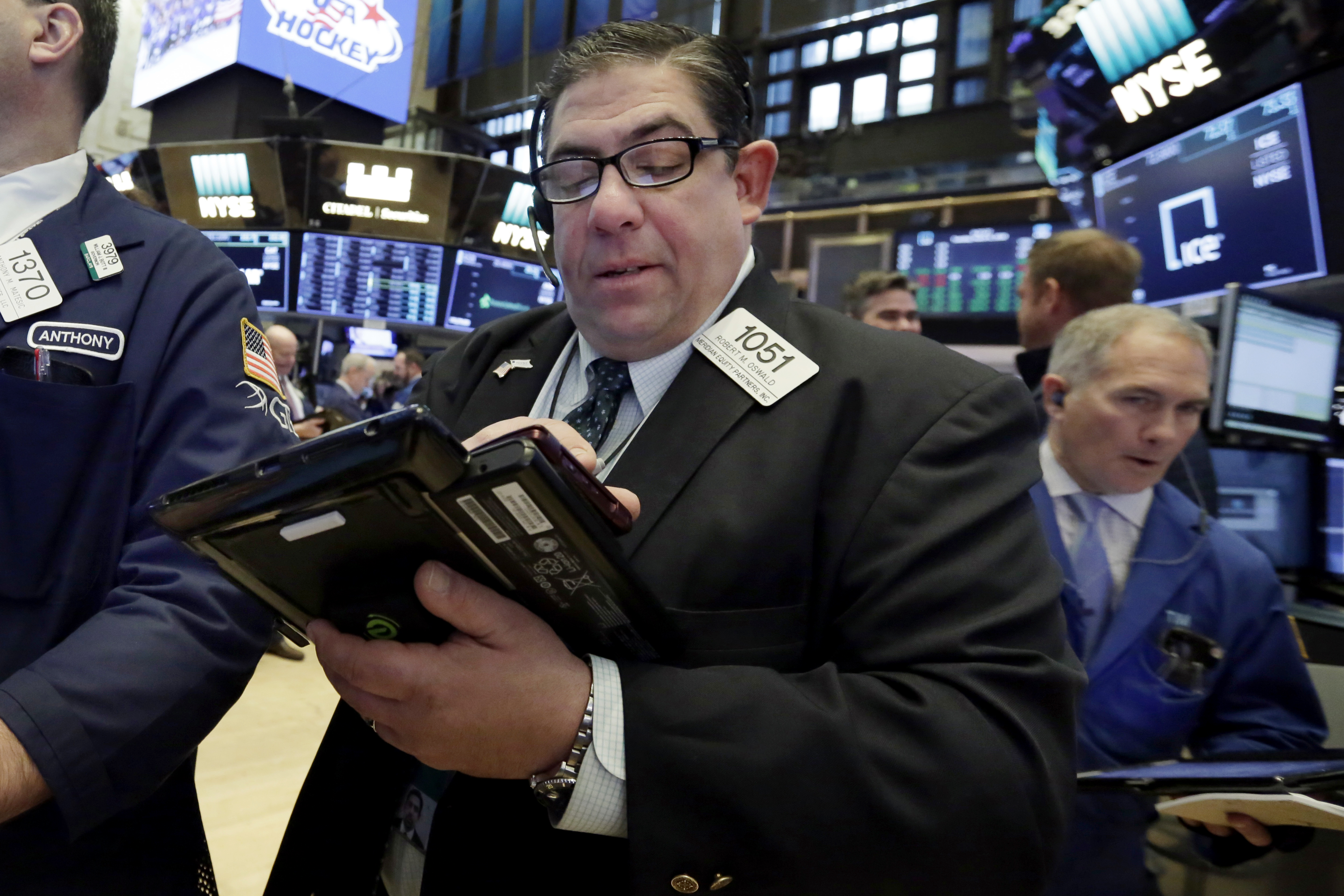 By MARLEY JAY
AP Markets Writer
NEW YORK (AP) — After hours of indecisive trading, stocks finished with modest gains Thursday after President Donald Trump formally ordered tariffs on steel and aluminum imports with the terms were less harsh than investors had feared. Stocks rallied following reports that Canada and Mexico will be exempted indefinitely from the tariffs and that other countries will be invited to negotiate for exemptions as well.
Congressional Republicans and business leaders oppose the tariffs and have pushed for the
administration to take a more measured approach that would invite less backlash from other countries. "The president's tone was far more pragmatic," said Quincy Krosby, chief market strategist at Prudential Financial. "This certainly is not the strict tariff proposal that the president had suggested in the past couple of weeks."
Health care companies rose after pharmacy benefits manager Express Scripts accepted a $52 billion offer from health insurer Cigna. Technology companies also moved higher, but energy companies slipped along with oil prices. The Standard & Poor's 500 index climbed 12.17 points, or 0.4 percent, to 2,738.97. The Dow Jones industrial average rose 93.85 points, or 0.4 percent, to 24,895.21. The Nasdaq composite rose for the fifth day in a row, gaining 31.30 points, or 0.4 percent, to 7,427.95.
The Russell 2000 index of smaller-company stocks dipped 2.57 points, or 0.2 percent, to 1,571.97. The index had jumped 4.5 percent over the previous four days as discussion about the proposed tariffs prompted investors to buy U.S.-focused companies and sell multinational firms. Friday could prove to be another dramatic day on Wall Street as investors review the government's February jobs report. Stocks tumbled after the January report showed unexpectedly strong growth in wages, which set off worries about inflation.
The insurer Cigna will spend about $52 billion to acquire the nation's biggest pharmacy benefit manager, Express Scripts, the latest in a string of proposed deals as health care's bill payers attempt to get a grip on rising costs. Express Scripts jumped $6.30, or 8.6 percent, to $79.72 while Cigna lost $22.25, or 11.5 percent, to $172.
Pharmacy benefit managers run drug plans for insurers and employer-based plans. Like health insurers, they have struggled to corral spiraling costs, so in the last few years several big health insurers have created their own pharmacy benefits management businesses or bough them. And late last year, drugstore chain and pharmacy benefits manager CVS agreed to buy insurer Aetna for $69 billion.
Grocery store Kroger posted a bigger fourth-quarter profit and said its digital sales almost doubled in the past year, but its profit forecast for the current year disappointed investors. Kroger expects to earn between $1.95 and $2.15 a share for the year, while FactSet says analysts expected a profit of $2.15 per share on average. The stock fell $3.25, or 12.4 percent, to $22.98. Newspaper publisher Tronc plunged $4.77, or 24.1 percent, to $15.05 after its quarterly profit fell far short of Wall Street's forecasts.
Benchmark U.S. crude fell $1.03, or 1.7 percent, to $60.12 a barrel in New York. Brent crude, used to price international oils, lost 73 cents, or 1.1 percent, to $63.61 a barrel in London. That led to more losses for energy companies. Investors expect February's jobs report will show another month of strong hiring. According to FactSet, they expect to see that hourly wages grew 2.8 percent. That's similar to last month's report, which caught investors by surprise. Wall Street feared the stronger wage gains mean inflation is picking up and that
interest rates will start to rise more rapidly, slowing the economy.
That helped touch off a nine-day, 10 percent plunge for the S&P 500, which has yet to fully recover. Friday is the ninth anniversary of the current bull market. March 9, 2009, was the lowest point for the S&P 500 after the 2008-09 financial crisis that touched off the Great Recession. The index has roughly quadrupled since then and it's about five months away from becoming the longest-lived bull market since World War II.
Bond prices edged higher. The yield on the 10-year Treasury note declined to 2.85 percent from 2.88 percent. Banks traded lower, because lower yields mean they can't make as much money from lending. The CAC 40 in France added 1.3 percent and the DAX in Germany rose 0.9 percent. In Britain the FTSE 100 gained 0.6 percent. That came after the European Central Bank hinted that it is closer to exiting its extraordinary monetary stimulus effort.
The Hang Seng in Hong Kong jumped 1.5 percent while Japan's Nikkei 225 index edged 0.1 percent higher.
The South Korean Kospi gained 1.3 percent. In other energy trading, wholesale gasoline declined 4 cents to $1.87 a gallon. Heating oil dipped 2 cents to $1.86 a gallon. Natural gas slid 2 cents to $2.76 per 1,000 cubic feet. Gold lost $5.90 to $1,321.70 an ounce. Silver added 1 cent to $16.50 an ounce. Copper fell 6 cents to $3.08 a pound. The dollar inched up to 106.24 yen from 106.07 yen. The euro fell to $1.2306 from $1.2403.