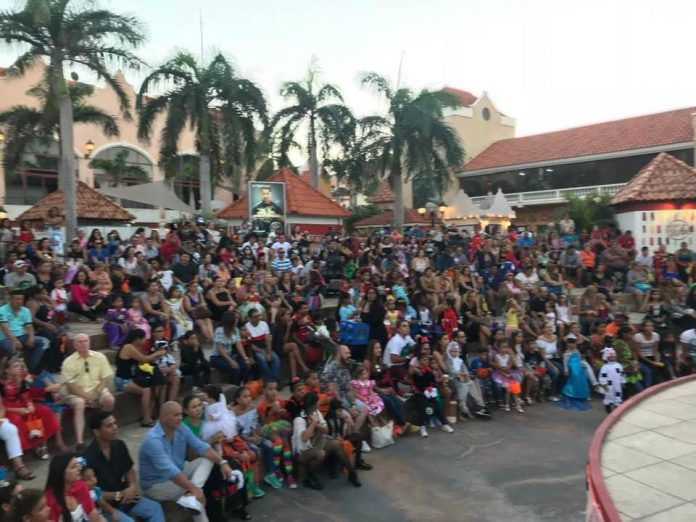 Paseo Herencia invites you this Sunday on October 27th for the annual Kids Halloween Trick or Treat event from 5pm – 8pm at the Plaza Padu located in the heart of Paseo Herencia. Celebrate with the kids and loved ones by trick or treating at our participating stores and restaurants in your favorite Halloween costume and compete for different costume prizes. Prizes will be given for the best costume, best Halloween character and best family group.
Snap a picture at our Halloween photobooth, participate in different kids' activities and enjoy live shows on stage. Don't forget to take a spin in the Virtual Reality Room with scary games such as "Five Nights at Freddy's VR" or Epic Roller Coasters. Get yourself a spooky and delicious Halloween Frappula Frappuccino at Starbucks for limited time only. The Frappula Frappuccino blended beverage has a layer of eerie mocha sauce, topped with innocently sweet Vanilla Frappuccino soaked in terrifying ruby red strawberry sauce, creating the unmistakable mark of a Vampire's latest victim available from October 25th till Oct 31st.
To complete the night, watch one of the new Halloween movie releases such as "The Addams Family", "Maleficent" and "Zombieland" at the Caribbean Cinemas VIP located above the escalators. From October 25th till the 27th you will receive a FREE medium Pepsi with a purchase of a medium popcorn. If you are still on the island on October 30th, Caribbean Cinemas will be showcasing the Terminator 3 during their Horror at Midnight event.
Paseo Herencia is open daily till 10'o clock in the evening. Come and enjoy all these activities with your friends and family for the Halloween season at Paseo Herencia. For more information about current events or activities visit the Paseo Herencia Facebook page or call us at +297 586 6533.Q