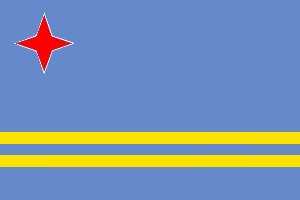 It all started with a painting contest on January 21st, 1976, where the competition consisted of a design for a flag. A total of 693 designs were received. Among the designs what stood out the most were the symbols of the cross and the horizontal stripes. Also the colors more used were red, blue and yellow. Flag Research Institute in Boston, choose the winning design.
The colors chosen were from the 'British Colour Council Dictionary of Colour Standards'. The design consists of a field of light blue (called Larkspur), two narrow parallel horizontal yellow (Bunting Yellow) stripes in the bottom half, and a four-pointed white-fabricated red (Union Flag red) star in the canton.
The Parliament of Aruba approved the design of the flag on March 16th, 1976, which was officially inaugurated on March 18th, 1976. For the first time on that day the flag was raised and the national anthem of Aruba 'Aruba Dushi Tera' was played. This took place at Wilhelmina Stadium in Dakota. .
The four colors and symbols
Light Blue represents the sea that's surrounding the island of Aruba.
Yellow is the color of abundance and the horizontal lines represent abundance of solidarity. They also represent Aruba's economy past and present. Aruba's main income in the past consisted of gold and aloë vera. The main income today is tourism. Yellow also stands for the local flora that blossom yellow flowers like: "Kibrahacha" Tabebuiabillbergii, "Palo di Brazil" Haematoxylonbrasiletto, "Bonchi di Strena" Parkinsoniaaculeata, "Curahout" Peltophorumacutifolium, "Tuturutu" Yellow Dwarf Poincianas, Caesalpiniapulcherrima and "Wanglo" Puncture vine Tribuluscistoides. The horizontal yellow stripes symbolizes Aruba's freedom and separate status within the Kingdom of the Netherlands since January 1st, 1986.
White stands for peace and also symbolizes the purity of the hearts of Aruban people who strive for justice, order and liberty.
The red star represents the four points of the compass and symbolizes the different origins of the Aruban population that attracted people from all over the world. It also stands for Aruba itself surrounded by the beautiful blue sea and ancient industry of "Palo di Brazil" Haematoxylonbrasiletto. Red signifies love and also as a homage for the indigenous Arubans, that died at Frenchman's pass during a confrontation with the French for the liberty of the island. Red is the Union Jack Red.