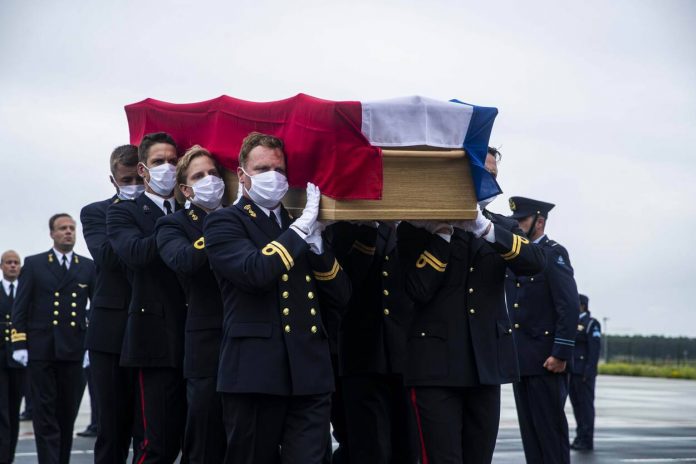 The bodies of aviator Christine Martens and tactical coordinator Erwin Warnies have been transferred to the families by Dutch Defense. This happened with military ceremonies at Eindhoven Air Base.
Colleagues carried the coffins with the Dutch flag draped on their shoulders from the KDC-10 transport aircraft that landed on Dutch soil around 1pm. Soldiers of the navy and air force formed a guard of honor. The 2nd class oldest category lieutenants were killed last Sunday when the NH90 maritime attack helicopter in which they were seated crashed in the Caribbean Sea. The two crew members who survived the crash accompanied their late colleagues to the Netherlands.

Professional and dear colleagues
Defense-minister Ank Bijleveld-Schouten at the ceremony: "It is terrible what happened. We have all been deeply affected and sympathize with the immediate families, friends and colleagues and will support and help them where possible. Defense has lost two dedicated, professional and dear colleagues. Christine Martens and Erwin Warnies have always devoted themselves wholeheartedly to the safety of other people." State Secretary Barbara Visser, Commander of the Armed Forces Lt. Admiral Rob Bauer and the commanders of the Navy and Air Force, Vice Admiral Rob Kramer and Lt. Gen. Dennis Luyt, also supported the relatives with their presence.
Transport from Curacao
Soldiers placed on Curacao, personnel of the Coast Guard and the crew of Zr.Ms. Groningen honored the colleagues with a ceremony before departure to The Netherlands. A carrier crew took the bodies to the KDC-10. This air force aircraft departed from Hato airport in Curacao. The helicopter crash hit many people inside and outside the armed forces. Thousands of heart-warming reactions came in through the condolences register on defensie.nl . It is still possible to express condolences. After closure, the register is handed over to the next of kin.