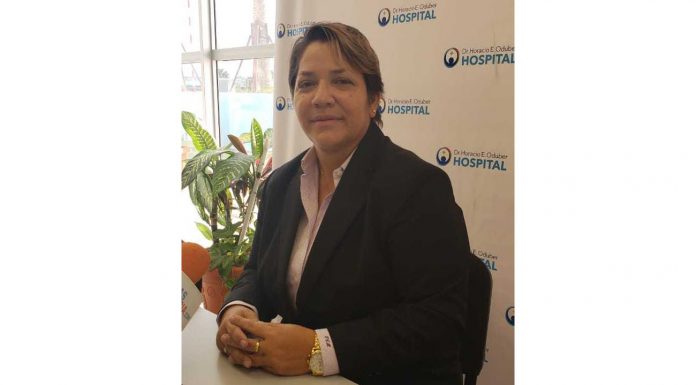 Gina Maduro is a professional nurse who has been president of the labour union for the nursing workers for over 10 years. Maduro works at the Horacio Oduber Hospital (HOH) in the emergency room department. It is a very busy department that demands a lot too. She has been working at the hospital almost 30 years, but she also takes part for almost 20 years of the Arubaanse Bond van Werknemers in Verplegende Instellingen  (ABV) union,being the first union representative in various departments of the hospital. 
Union vocation 
Union labour became a passion for her from a young age. The presence of her father, Mr. Raymundo Maduro (r.i.p), who was the leader of the union GABA, who fought for the rights of the workers of the government and was a very active leader himself, had influenced Maduro to follow his steps. She still remembers clearly seeing her father sitting in his office gathering with his colleagues, while she sat in a corner coloring. "My father was my biggest inspiration,"says Maduro.
She started preparing to become a union leader. She followed different courses of training and guidance until she entered the directive of ABV.
She states that her position of being a woman did not interfere with her becoming a Licensed Vocational Nurse or a union leader. She doesn't feel that, on the contrary she feels that as a union leader this helped her alor as a female. "It shapes you. It also helps you a lot in being confident of yourself," she declares.
Satisfaccion  
As a nurse working in a sector dominated by women her gender did not interfere either with her getting the opportunity to grow as a professional. Nevertheless her job in nursing goes according to your studies. Once you have your diploma no one can impede you from being promoted. She has been working at the hospital for almost three decades and she feels that as a professional that she was able to grow in her field and managed to specialize in this area too. Maduro is satisfied with all she has achieved in both fields. Since 2011, when she was elected as president of the ABV Union she has confronted many challenges, one of them being the negotiation of different collective agreements(CAO). She experiences a growth in membership too.
When she became president of ABV the only members were the hospital nurses. She managed to expand it and in 2015 employees of IMSAN also became members and afterward followed employees of the SABA elderly homes foundation, who are still members up till this day. They also have members of Respaldo, which used to be workers of the mental institution, and also workers of the blood bank.
As a woman it is not easy to assume the role of the union leader. She acknowledges that this function has a lot of challenges. It does not have to do with you being a man or a woman, but more of the responsibilities it comes with. Especially because in such a position, even though you try your utmost to help to get what's beneficial for all your members, you will never be able to please everybody. "You need to have the majority standing on your side", she says.
Balancing work and family 
Union labour takes a lot of time. As a Union leader you have to be available practically 24 hours a day. Their members work in different shifts and have different challenges and labour problems and also personal problems you will have to help them with. Especially in this time of crisis is where they have to educate their members.
"We are in the middle of a pandemic where it's very difficult to negotiate. Businesses are trying to hold onto what they are offering already", says Maduro.
The fact that Maduro also has to comply with her work also makes it less easy to which more personal and family sacrifices must be made. It is not easy to combine all this together, but she tries to find a balance between all of them. It all depends on yourself. "You have to find your own way to balance everything and never let it desbalance you." You must work when it's duty time and rest as much as possible when it's your resting time.
Where will we find you on a Saturday morning?
On a Saturday morning if she is not working, you will find her at home. She will be busy following all local, regional and international news. As a Union leader you must be up to date of all that is going on in the world. She loves reading books and loves to do training courses that will help her improve in all areas. In her free time she loves going to the beach with her family and socializing with her friends and family.
Final Message 
For the new generation entering the nursing world or the union world and for any one who wants to be a leader in any field Maduro advises them to not let their position as a woman interfere with their ability to grow. On the contrary, she sees that nowadays more and more women are standing out in key positions, but it still remains a challenge. "Women have demonstrated that they can", says Maduro.
Last but not least Maduro would like to congratulate all women of Aruba and  around the world on this women day. The whole world stands still today and focuses on them.
"I believe that we all have a spouse, a mother, a sister or a daughter, and we have to respect and value them".