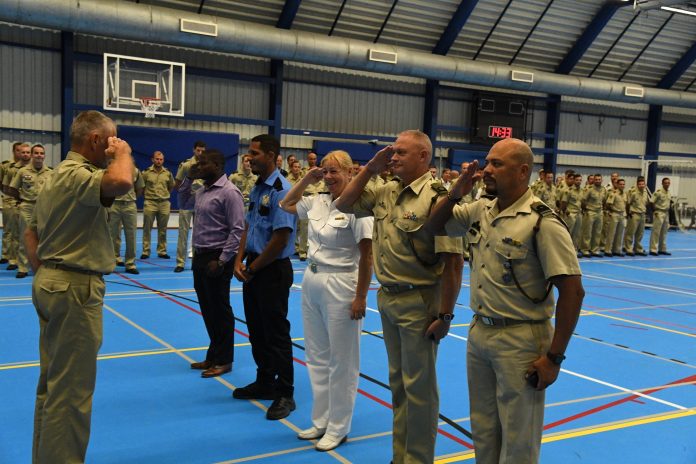 Marines' Adjutant Arthur van Hofwegen has received the gold medal for 36 years of loyal service from the commander of naval barracks Savaneta, Lieutenant Colonel Van Beekhuizen. This happened on December 10th during the special ceremony to commemorate the 354th birthday of the Marine Corps in the sports hall of the barracks.
In the presence of the Naval Commander in the Caribbean, Brigadier General of the Marines Peter Jan de Vin, colleagues of the Royal Netherlands Navy and the Marine Corps (active and in field service), three highlights from the career of Adjutant van Hofwegen were considered: the good memories of 19 years with the infantry, seven months with Cambodia in the second half of 1992 and the previous placement of five years with NLMARFOR.
During this ceremony various colleagues from the Marine Corps, the Aruban Militia and local staff were recognized for the good work they have done over the past period. In addition, Lieutenant Colonel Van Beekhuizen is decorated with the Jeneverkruis, officially the "Dutch Distinguishing Sign for Long-Term Service as Officer". The Jeneverkruis is an award for soldiers and reserve personnel that has been an officer for 15 years. Officers who already have the badge of honor can change the number every five years. The commander has received the number 25.
After the sound of the drums and pipers of the Marine Corps within CZMCARIB, the ceremony was closed with the cutting of the birthday cake in honor of the 354th birthday of the Marine Corps. q