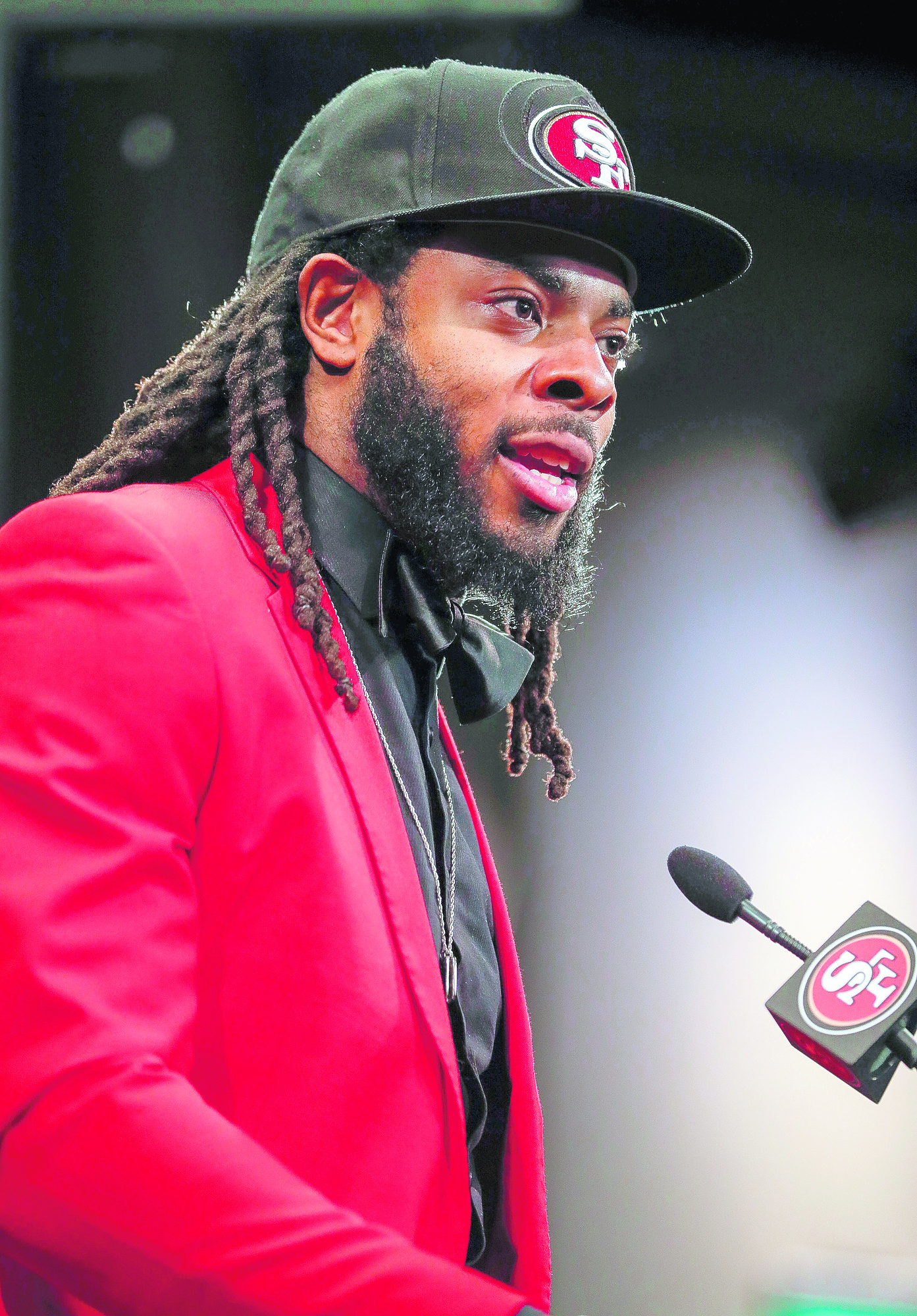 By JOSH DUBOW
AP Pro Football Writer
SANTA CLARA, Calif. (AP) — Richard Sherman walked into what used to be enemy territory at the home of the San Francisco 49ers decked out in a red suit to match his new team after switching sides from Seattle in this fierce NFC West rivalry. Sherman still must wait a bit to put on a red 49ers jersey, but he vows it will be sooner than some people expected considering he is coming off surgery on his right Achilles tendon that ended his final season with the Seahawks and led to his release earlier this month.
Sherman said he is already back on the treadmill following that surgery and another operation to repair bone spurs in his left heel and hopes to be back on the field by May or June and at full speed by the starting of training camp this summer. "There are some people that are cut from a different cloth and built from different things and I think I'm one of those people," Sherman said Tuesday. "I look forward to showing people that you can come back better from things. … I look forward to coming back better than ever. I've got a lot of things to show a few people."
Sherman showed plenty on the field during his seven years in Seattle, where he developed from an
overlooked fifth-round pick out of Stanford into the prototypical lockdown cornerback who shut down
opposing receivers and let them know about it with his colorful trash talk. Sherman showed similar skills defending the three-year contract he negotiated himself with the 49ers. The deal is worth up to $39 million but much of it is tied to incentives for playing time and awards and little is guaranteed, according to Pro Football Talk. That led to criticism from players like Joe Thomas, former executives like Joe Banner and some in the media.
Sherman got a $3 million signing bonus, a $2 million salary for 2018 and a $2 million bonus if he passes a physical before Nov. 11. The rest of his salary is tied to per-game active roster bonuses and rewards for being named to the Pro Bowl or All-Pro teams. If he gets those honors and plays at least 90 percent of the defensive snaps and all 16 games this season, Sherman could make $13 million this year, more than he was due to make with no guaranteed money in the final year of his deal with the Seahawks.
"The biggest misconception is that it's a bad deal," he said. "If you're comparing it to my last deal in
Seattle, I had no money guaranteed. … I'm coming off a ruptured Achilles, what do I have? What security do I have there? With this deal, I get $5 million guaranteed, which is half of my other contract. I get the ability to make more than I could have done whether I played at an All-Pro level or not in Seattle. And that's really all that I wanted. I play at the level that I'm capable of. I feel security in the upcoming years and I felt comfortable with that. I'm great with that."
Sherman said it was important to him to negotiate his own deal and he studied other cornerback
contracts before the 51⁄2 hours of negotiations with 49ers cap specialist Paraag Marathe and general
manager John Lynch. Sherman pointed out that many of the contracts negotiated each offseason by certified agents come with lofty sticker prices that players never get to see because of few guarantees.
He said he has already heard from other players interested in doing their own deals in the future and
expects more to come.
"I think these agents sometimes benefit from relationships. 'Oh, I know this GM. We've had dealings with for years.' They really don't have to do a ton of work. 'Hey, I called this guy. How much are you willing to give him? Oh, $5 million? OK. I'll convince him that that's good enough,'" Sherman said. "Instead of guys being able to control their own destiny, being in control of their own finances and I think it goes back to just educating our players in general on their own finances and being in control of your own life. I think more of our players are."