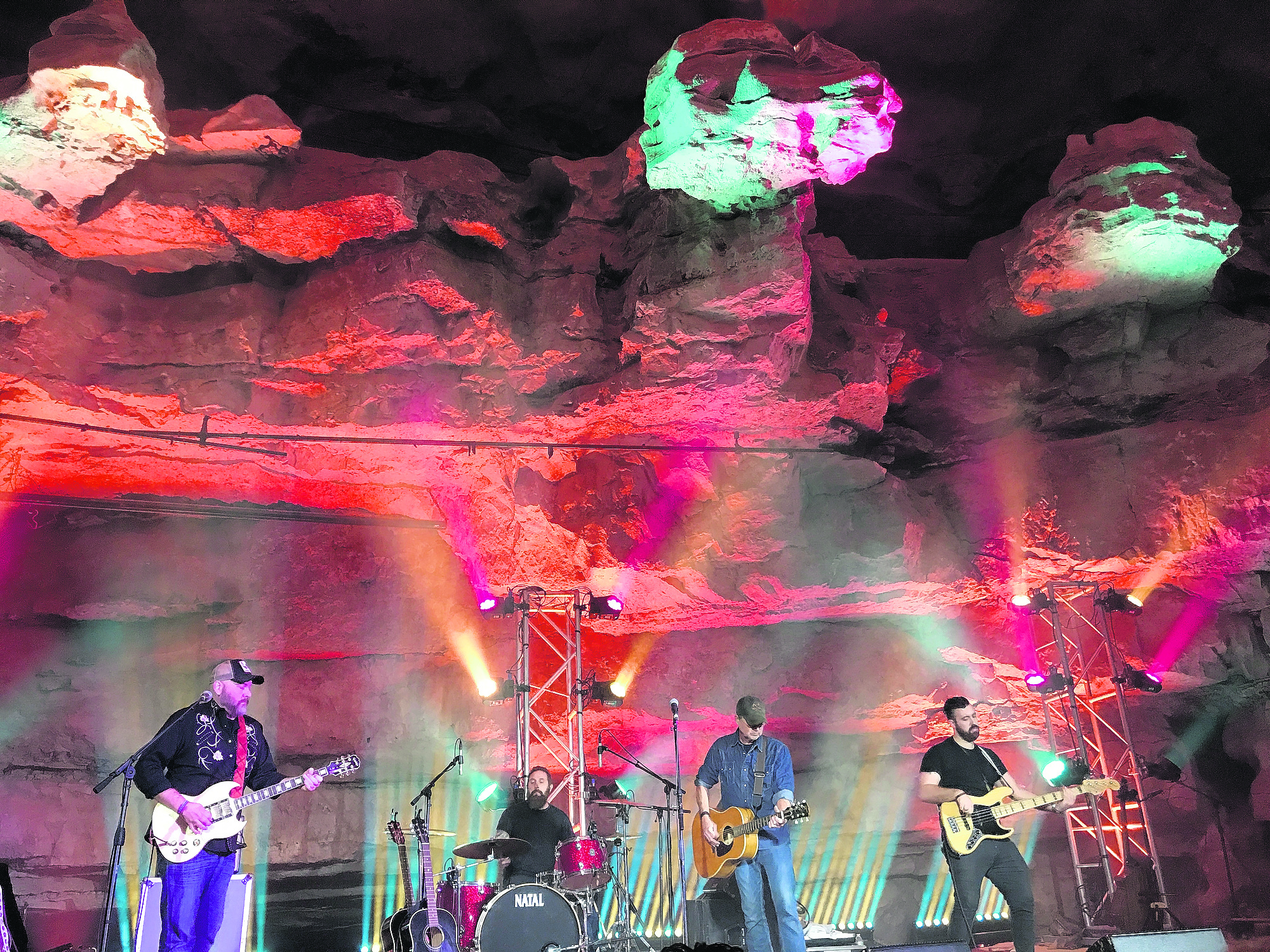 By JEFF MARTIN
Associated Press
MCMINNVILLE, Tenn. (AP) — By the time Nashville songwriter Travis Meadows took the stage on a recent Sunday afternoon, more than 500 music fans had found their way 333 feet (100 meters) below the ground, some taller guests ducking their heads just a bit. They took their seats in lounge chairs and on a handful of rock outcroppings beneath an antique chandelier that once adorned a New York City theater. The enormous light is now bolted into the ceiling of the Volcano Room inside Tennessee's Cumberland Caverns.
"The patrons and performers are all sort of awed by this magical and majestic setting," said Todd Mayo, who had the idea of hosting concerts 10 years ago, during a family vacation that included a tour of the cave. The phenomenon draws fans since it pairs live music with the lure of exploring the caves and their unique environments, promoters say. "Caves are spiritual, special places, so when you combine that natural wonder of a cave with music, it's just special," Mayo said.
Tennessee will soon have not just one, but two caves vying for fans who want to see music performed in a subterranean environment. Mayo is the creator and executive producer of the PBS show "Bluegrass Underground," which has filmed concerts in the Volcano Room since 2009. He recently bought his own cave at the base of Monteagle Mountain near Pelham, Tennessee, and is planning that cave's first-ever show Saturday with performances by Nashville artist Billy Strings and a band from Havana, Cuba known as the Sweet Lizzy Project.
The PBS show is also moving to that cave known as The Caverns, where Mayo hopes to put on about 40 to 50 shows this year. It can seat 750 people or expand to 1,000 for standing-room-only shows.
Meanwhile, the original home of the PBS show in Cumberland Caverns is continuing to host concerts on its own and aims to book about 20 shows this year beneath the giant crystal chandelier in the Volcano Room, spokeswoman Amanda Blank said. Atlanta singer-songwriter Shawn Mullins recently performed in the Volcano Room, which has a capacity of around 700.
"These shows, because they are so unique and on a lot of music lovers' bucket lists, I think there are
enough people to fill both places," Blank said. Mayo said the shows have drawn fans from around the world, from the United Kingdom and the Netherlands to Thailand and the United Arab Emirates.
"It's a destination now — people want to come do this," he said. While producing the PBS shows in the Volcano Room, Mayo recalls meeting a woman from Dubai who had seen the show, and sold her car to buy plane tickets to fly to Tennessee to see a show. The artists who have performed there say they didn't know exactly what to expect.
"It was kind of surreal, man, in its own kind of way," said Jimbo Hart, a bass guitarist who performed in the Volcano Room with Alabama artist Jason Isbell's band, The 400 Unit. "It sparked the science nerd in me," said Hart, who had studied geology at the University of North Alabama and found himself noticing the waterfalls, the stalactites and various formations of the cave. Tim Nielsen, a bass player in the Georgia band Drivin' N Cryin', recalls their gear being loaded into the cave on small all-terrain vehicles. Fans are guided about 900 yards (820 meters) past underground pools and waterfalls to reach the Volcano Room for shows.
"We had no idea what we were getting into, but we were just like 'Ok, we're going to play in a cave way down under the Earth,'" Nielsen said. "It was a cool vibe, a cool experience." Mayo said there are several reason he went cave-shopping, and ended up buying one historically known as "Big Mouth" for the new venue he's named "The Caverns." It's closer to Nashville and Chattanooga, Tennessee, and also allows easier access for fans to get inside, he said. And it gives him the ability to install permanent lighting and audio equipment. "The cave is very carefully lit because the cave is the co-star for whoever is on stage," Mayo said. "The lighting is very subtle and it's really beautiful and it's really respectful of this natural environment."