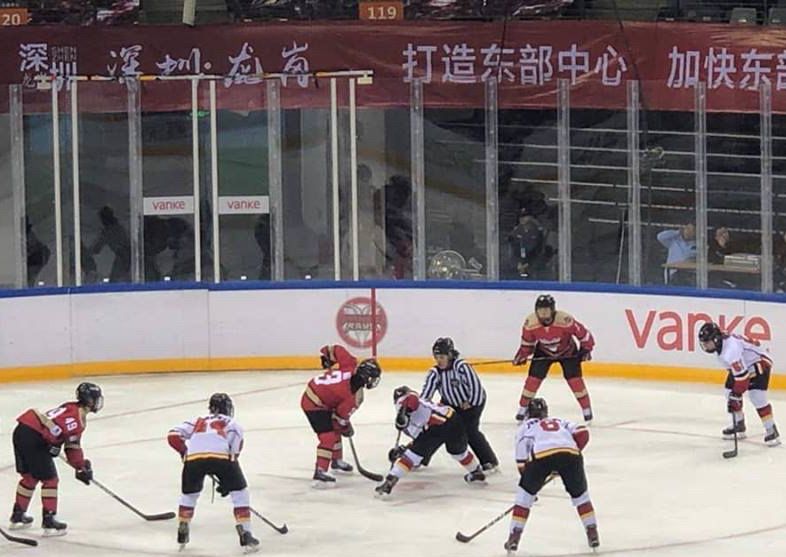 ORANJESTAD — Last week I wrote about my granddaughter Sarah Hickman – Harms who was contracted to referee three games of the Canadian Women's Hockey League (CWHL) in Shenzhin, China. Today I would like to share with you some of the most memorable experiences of her trip.
Undoubtedly, the 16 hours non-stop flight from Dallas to Hongkong is an experience that Sarah will never forget. Following her arrival, another memorable adventure awaited her: The crossing of the brand new bridge complex connecting Hongkong with the Chinese mainland. Officially known as the
Hong Kong, Zhuhai, Macau Bridge (HZMB), it is considered an engineering marvel. Its construction took nine years at a cost of 20 billion dollars. China has several longer bridges, but this one is the longest (55km) bridge complex in the world that crosses a sea.
The three games were inaugurated with a beautiful and impressive ceremony. Listening to the singing of the national hymns of Canada and China, Sarah felt an intense emotion that made her ponder over her life. Was this another one of God's many blessings that she had received, or was this her reward for all the years she had devoted to the sport of ice hockey; as player starting at the age of five, as a member of the Sacred Heart College varsity team, and as a referee after she stopped playing? Sarah felt a profound gratitude towards her parents who had always supported her.
With a minimum margin of one goal, the Canadian team won all three games, but the Red Stars of Shenzhin never stopped fighting. The scores 2-1, 4-3, 4-3 reflect the tenacity of the home team. The second game even went into overtime before the Canadians could seal their victory. As the games were so tight, Sarah and the other referees constantly had to move up and down the rink to keep a sharp eye on the action on the ice. Sarah figures she skated as much as any of the players.
On their off-day Sarah and her colleagues had the luxury of a guide/translator that the CWHL had assigned to them and they availed themselves of this opportunity to do some sightseeing, visit some open markets and eat at some truly Chinese restaurants.
After the 16 hours non-stop flight from Hongkong to Dallas and a connecting flight to Bradley Airport at Springfield, CT, Sarah arrived back in Holyoke, MA Monday morning and went directly to the school where she teaches sports. I imagine her students are in for some exciting stories. clydeharms@yahoo.com