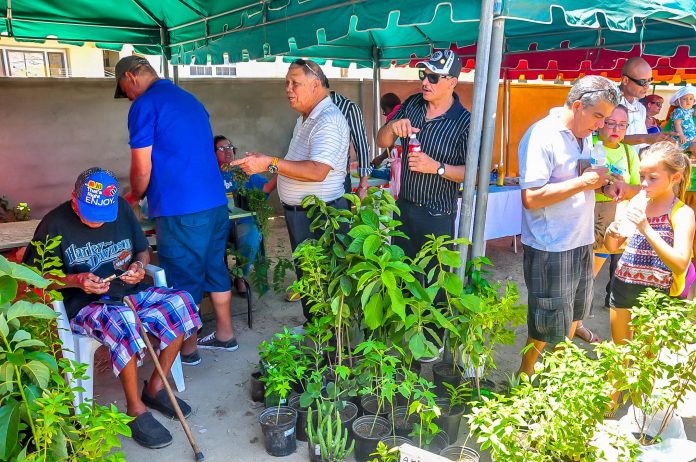 (Oranjestad)—The famous Santa Rose Farmers Market is back and bigger with a Public Day for the community of Aruba. This is set to take place on May 7th at the Department of Agriculture, Cattle and Fish Santa Rosa.
The Santa Rosa Farmers Market and Public Day gather local producers that set their tents and offer fresh produce to the community of Aruba. The best part is that products are affordable. For this coming Saturday, there will be around tents of local farmers and producers offering fresh fruits and vegetables, as well as natural products for both hair and cuticles. There will of course also be aloe products, sweet treats and snacks.
During this Public Day event, the public can also enjoy different presentations about agriculture, raising cattle and fish. These presentation will be schedules in the morning up until the afternoon.
Of course we cannot forget to mention that there will also traditional meals for sale, including Cabrito Stoba (Goat stew), Comcomber Stoba (Aruban cucumber stew), Sanger Yena (Blood sausages), Pisca Hasa (Fried Fish) and much more.
Additionally, there will be fresh local bred meat for sale. These include pig meat and goat meat, that will be available at the farmers market.
It is also tradition during the Santa Rosa Public Day that we give recognition to those who have always contributed to the agricultural sector of Aruba. We also give recognition to the "friends of Santa Rosa", those who contributed their support to the department or young people who are heavily involved in this sector.
The entire community of Aruba and visitors are officially invited this Saturday, May 7th 2023 to visit Santa Rosa for the Farmers Market and Public Day event, which starts at 9am and ends at 2pm. Santa Rosa is located at Piedra Plat 114A, Paradera.