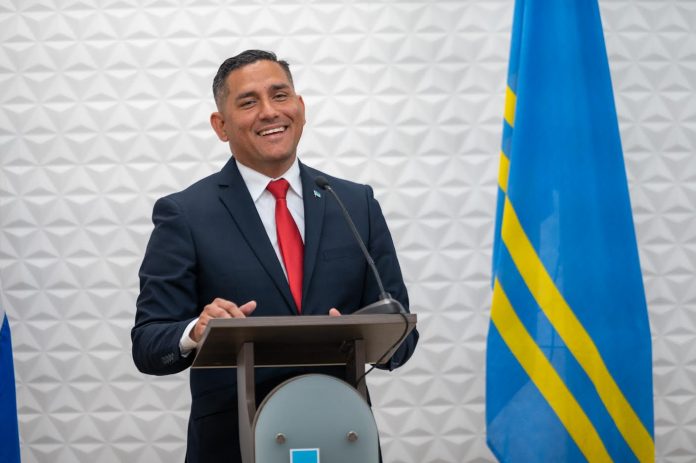 (Oranjestad)—As mentioned in our last edition of Aruba Today, the Minister of Transport, Ursell Arends, has reintroduced the system of parking meters through Aruparking. In a press conference yesterday, he announced the seven cardinal points related to the new regulation of Aruparking.
The minister explained that the reintroduction of Aruparking came after a study conducted by six state companies, including Arubus, and a third party company names PWC Nederland. In this study they have analyzed not only the advantages and disadvantages of reintroducing parking meters, but also the desire and need for it.
He also mentioned that there are three requirements that are of the utmost importance when it comes to the regulation of parking zones, which are "order, control and mobility." In terms of the seven cardinal points, the minister stated that these were created with the help of the Board of Advisory of Arubus and management of Aruparking. He also mentioned that these points are what distinguish Aruparking from what it used to be and what it is now. These points are as follows:
There will no longer be wheel clams used if the user has violated rules. Instead, there will be a team of parking officers will be checking parking zones regularly. Penalties will be dealt in a 75 florin ticket, or approximately $40.
There are free parking zones. The is a total of 440 free parking zones around the L.G. Smith Boulevard area as well as around the area of the Arubus bus station.
There 24 parking spaces especially reserved for disabled or pregnant users, as well as for the elderly.
There are different ways to pay for your parking space. In this new regulation, you may pay with cash at the parking or online through pay.aw, which accepts any type of credit card. Smart Cards are no longer used, so if you still have money in your smart card, please contact Aruparking for an arrangement.
There is a new edition of parking called "Stop and Go," where users who are only staying in the down town area of Oranjestad for a short time may only pay 1 florin for 30 minutes.
All yellow parking spaces are now white and thus open to the public. In the past, yellow parking spaces have caused a bit of confusion among the community as well as visitors. Luckily this time around, there will be no yellow spaces any more.
For special permits, for example for delivery trucks dropping off products for nearby shops, you may contact Aruparking to obtain this. This costs 150 florins, or approximately $83.
Paid parking is enforced from 9am to 7pm, from Monday to Saturday. Outside of these hours, parking spaces are completely free everywhere. In terms of marked parking spaces, please note that these are appointed spaces for government workers or other special users.
The reintroduction of Aruparking is currently only enforced in the down town Oranjestad area. Minister Ursell Arends has stated during the press conference that Aruparking is in its first phase of reintroduction, where they will be further evaluating the experiences of users and through this, consider if there must be additional modifications made to the system.
To end the conference, the minister shared his final message to the community of Aruba: "This are the steps we are taking to reintroduce Aruparking, keeping in mind that this was something that was petitioned for by the community and nearby businesses. With these new seven points, I hope that this may bring the necessary relief for regulated parking."