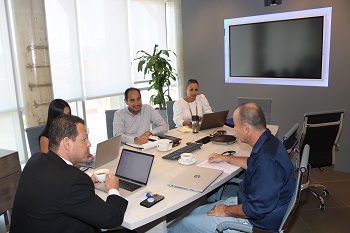 The Minister of Justice and Social Affairs, Mr. Rocco Tjon, recently met with CEDE Aruba to discuss the "Safe Barios" project.
Parliament approved this project in the 2022 national budget to offer more to young people in the neighborhoods. The minister considers this investment essential because it is done precisely in prevention.
A recent survey on the quality of life of young people shows an urgent need for activities for young people to keep them on track. That is why it is so important to invest sustainably in the neighborhoods. These investments should make these areas less attractive to all forms of crime and offer a unique opportunity to transform them into places offering opportunities to young people and the community.
CEDE Aruba, and the Minister of Justice are carrying out this project, which aims to transform the community centers. The minister has the cooperation of 3 other ministries; the Ministry of Sports and Education, the Ministry of Labor, Integration, and Energy, and the Ministry of Integrity, Nature, Transport, and Elderly Care.
As part of this project, the sports facilities and recreational parks for young people, will undergo proper maintenance. They will install better lighting, and traffic will be made safer. Several after-school programs will be available.
The various ministries and other partners who play an essential role in safeguarding the long-term trajectory of this project will soon sign an MOU. The timeline has been established and will be presented to all community centers end April.