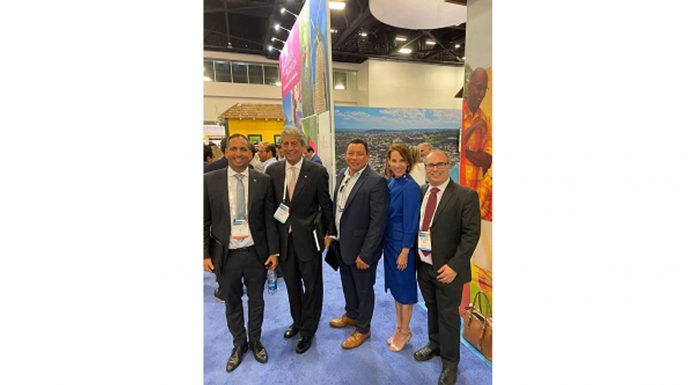 In April of 2022, the Minister of Tourism and Public Health, Mr. Dangui Oduber, traveled to Miami with a delegation to attend the Seatrade Cruise Convention.
This convention is the largest in the world. It did not take place the last two years due to the pandemic.
The presence of the Aruban delegation is significant considering the opportunity to showcase Aruba to the world during this convention to major cruise lines and all countries present.
Aruba has a booth to showcase our island to the world of cruise tourism. The Aruban delegation consists of the Minister of Tourism Dangui Oduber, ATA CEO Ronella Croes, APA CEO Marc Figaroa, and the ATA Cruise Manager Mario Arends.
The Minister has attended different meetings during this week's visit. It includes meetings with the Carnival Cruise Lines, Royal Caribbean Cruises, MSC Cruises, and other cruises lines. The Minister also met with the Minister of Tourism of the Dominican Republic, Minister of Tourism of Curacao and the authorities of the Jacksonville Port Authority. These meetings are essential for the development of our cruise tourism.
Cruise Tourism remains essential for the Aruban economy. The pandemic caused a considerable delay in this industry but is slowly recovering. During the convention they proved that even though Aruba is in the "deep south" on the cruise route, it remains an attractive and popular destination.