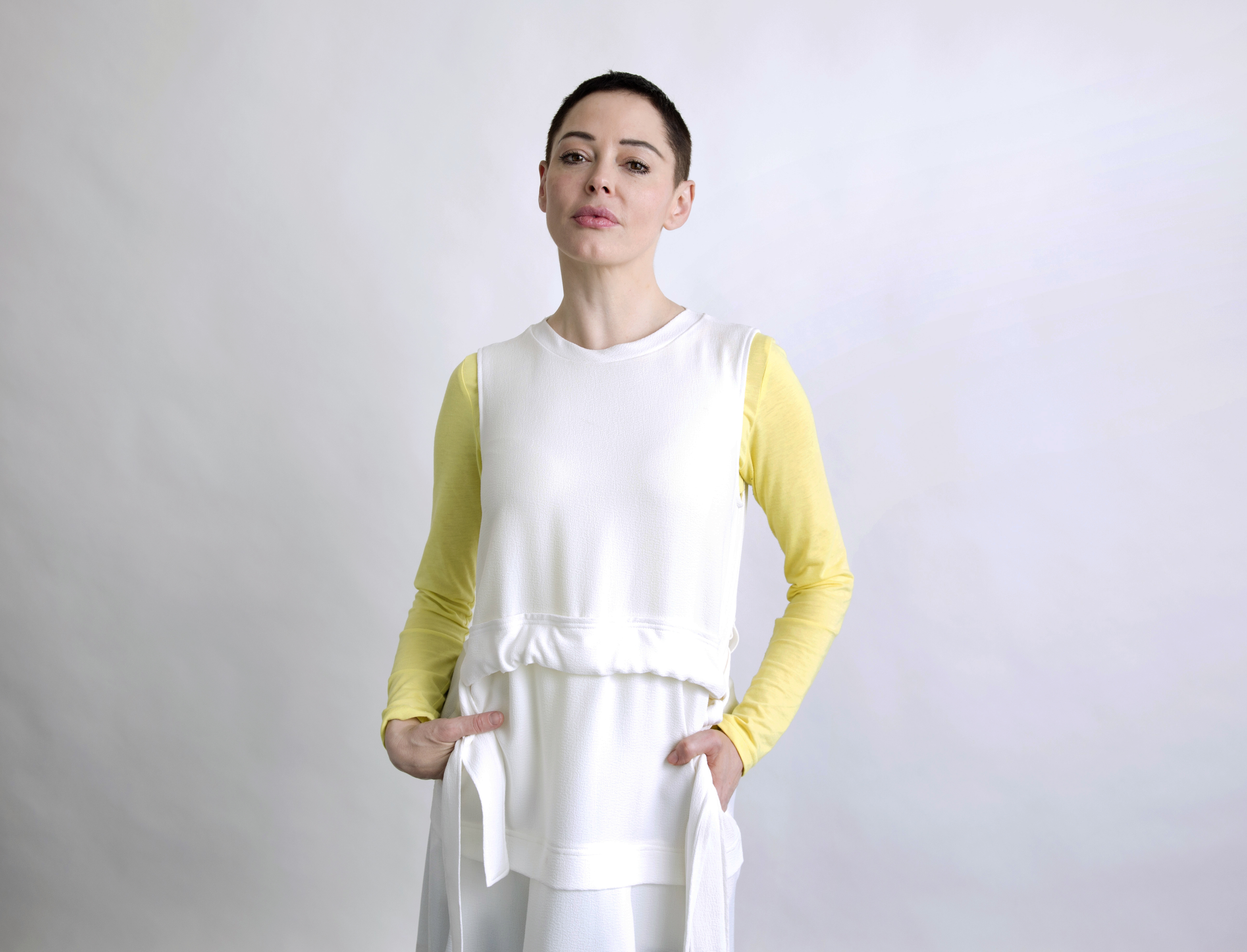 By HILLEL ITALIE
AP National Writer
NEW YORK (AP) — Rose McGowan says it's time for Harvey Weinstein to drop his story about a "consensual" relationship. "He can fall off the planet," the activist said during an interview with The Associated Press on Wednesday. "My statement is truth. My statement is reality. Stop saying it's consensual, you pig! You know it's not true."
Weinstein issued a statement Tuesday that quoted an alleged email from McGowan's former manager, saying that the actress had spoken of a consensual encounter with him. Weinstein is accused by multiple women of sexual misconduct, revelations that helped lead to allegations against Matt Lauer, Charlie Rose and dozens of other men.
McGowan, 44, is promoting a trilogy (a "holy trinity without the 'holy,'" she calls it) of new projects this week, including the album "Planet 9," the E! docuseries "Citizen Rose" and the memoir "Brave."
Her book includes a graphic account of being assaulted by the movie producer, whom she calls "the monster," in a hotel 20 years ago. Besides her comment to the AP, McGowan issued a statement Wednesday saying that his remarks were part of an ongoing effort to "smear" her.
"It is an affront not only to Rose but to the hundreds of women who have come forward with their stories of harassment, sexual abuse and rape perpetrated by Mr. Weinstein and those like him," the statement reads in part. "This is a sad, pathetic old-fashioned sexist attempt to undermine obvious truth and the gaslighting will no longer be tolerated."
McGowan signed a deal for "Brave" in 2016, well before the current #MeToo movement, but says she knew all along the world would change — in part because she would change it. "Brave" describes her survival of what she calls a lifetime of attempted brainwashing, whether the Christian-influenced cult her family belonged to as a child to her years in Hollywood.
"This is not a tell-all," she writes. "This is a tell-it-how-it-is."
McGowan is known for such films as "Scream" and "Going All the Way," and for the TV series "Charmed." But she says she's done with acting and describes her time on screen as "just a job" and scorns the recent reboot of "Charmed" as an idea "so flaccid." She did enjoy directing "Dawn," a short film about an innocent girl's murder she has likened to her time in the movie business.
And she is anxious to work in other art forms. A fan of such authors as Isabel Allende and Gabriel Garcia Marquez, whose "Love in the Time of Cholera" she re-reads each year, McGowan says she's thinking about writing a "fiction-ish" story about an 11-year-old girl. During her interview, she also spoke of her love for visual art and music and of the liberating feeling of working behind a camera instead of front of it.
She also has some thoughts about the Time magazine cover story on "The Silence Breakers."
Here are highlights:
ON KNOWING 'BRAVE' WOULD COME OUT AMID THE #MeTOO MOVEMENT:
"Of course I did. I'm the architect, how would I not know? My book was never meant to come out to deaf ears. I always had to smash the Hollywood propaganda machine first; this was not an accident. This was not a case of being the first one to speak. This was me being behind the scenes."
ON HOW IT FELT TO TELL HER STORY:
"It was so traumatizing to write in a lot of ways, just because you write a passage and you have to go to dinner and put on a good girlfriend face or human face and go out into the world and really you want to do is bend over and scream. What everybody throughout the writing, people that I know, would say, 'Is it cathartic?' and I would say, 'No, not yet, I'm waiting for that day.'"
ON NEVER ACTING AGAIN:
"I've done enough public service in that form. I've done enough. My job was to teach a core group of followers and fans and people that responded how 'to feel.' I did it. They understood. We're moving on now to the brain. It's not anybody's job to keep me in the past. It's nobody's job."
ON WHY SHE WON'T RUN FOR OFFICE:
"I'm global, my work is global and my work is outside of the system. And my work is to look at the power structure. I don't believe in borders. I don't believe in laws, especially in laws related to women's bodies."
ON HER DISLIKE OF TIME MAGAZINE'S PHRASE 'THE SILENCE BREAKERS' FOR ITS PERSON OF THE YEAR COVER STORY:
"'The silence breakers.' How dare you. You just didn't listen. That's a misnomer. It's erroneous and it runs a false narrative. Like as if all of a sudden we all just gained the guts to talk. No stupid, you just gained the guts to listen."