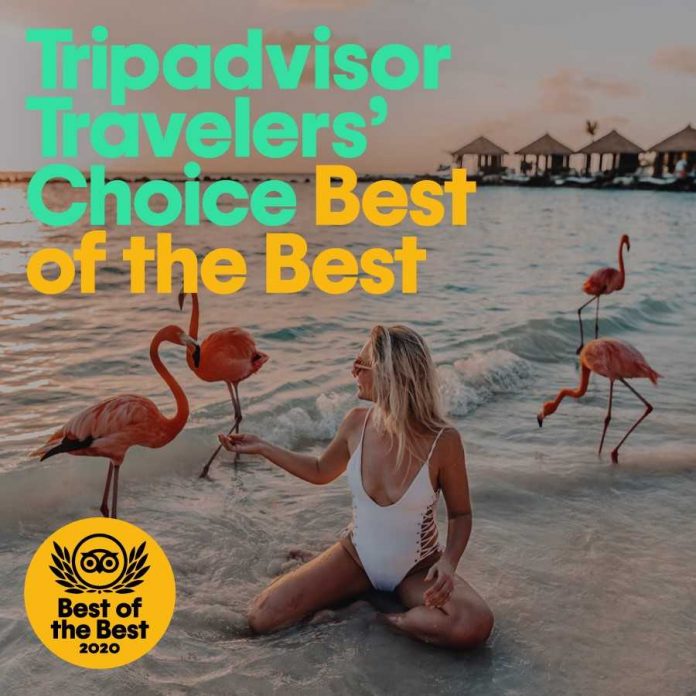 Leading Aruba resort recognized as one of the Top 25 Most Saved Hotels in the World in TripAdvisor's 2020 Travelers' Choice Best of the Best Awards
Renaissance Aruba Resort & Casino has a long-standing reputation as a leader in providing incomparable travel experiences to travelers from all over the world. Last week, TripAdvisor announced the results of its 2020 annual Travelers' Choice Awards, naming the leading Aruban resort among their picks for Top 25 Most Saved Hotels in the World while the resort's restaurants, Okeanos Spa and private Renaissance Island secured additional awards in their individual categories.
A new category added to this year's TripAdvisor awards, the inaugural class of Most Saved Hotels is a compilation of bucket-list properties that travelers have saved more than any others in 2019. As #18 of the 1.4 Million hotels on TripAdvisor, Renaissance Aruba attributes this monumental showing of support to their world-famous flamingos, incomparable accommodations and their team that continues to provide guests with service second to none.
"We are incredibly honored to have Renaissance Aruba recognized among the Best of the Best by TripAdvisor travelers, especially as we reopen and welcome back guests to our dual-property resort," said Paul Gielen, General Manager at Renaissance Aruba Resort & Casino. "We could not have predicted this whirlwind of a year, but it's moments like the Best of the Best awards that confirm we are on the right track and our guests are eager to travel again. Thank you to everyone who added Renaissance Aruba to their bucket lists, and we hope they can turn their dreams into reality with a visit to our resort very soon."
In addition to clinching a spot on the new award's list, the resort's private Renaissance Island was named the No. 1 top attraction in Aruba, in large part to the notorious pink flamingos while restaurants L.G. Smith's Steak & Chop House, Fresco and Aquarius dominate Aruba's best restaurants list. Okeanos Spa brings the resort's awards tally to a grand total of six as they are named the No. 2 spa in Aruba.
Rates start at $244 for a one-bedroom ocean view suite at the Renaissance Ocean Suites property. Renaissance Marina Hotel is scheduled to reopen this fall. For more information and to book reservations, please visit www.renaruba.com or call +297 583-6000.
###
About Renaissance Aruba Resort & Casino
Renaissance Aruba Resort & Casino offers two distinct resort experiences, the lively adult exclusive Renaissance Marina Hotel or a sophisticated one-bedroom suite product at the secluded Renaissance Ocean Suites. The resort is the only property on Aruba to operate its own private island, a 40-acre atoll that is exclusive to guests and serviced by complimentary water taxi. Tropical retreat meets urban chic as the resort encompasses upscale shopping, 15 restaurants, two Wind Creek casinos, the 3,500 square-foot Okeanos Spa and a six-theatre cinema. Oranjestad's hip nightlife options are within walking distance. The Renaissance Convention Center is Aruba's largest meeting facility. For more information or reservations, visit http://www.renaruba.com, like us on Facebook/RenaissanceAruba, follow us on Twitter or Instagram @RenAruba
About Renaissance Hotels
With over 170 hotels in more than 35 countries around the world, Renaissance Hotels has a dynamic global portfolio. Designed for spontaneous global travelers, Renaissance Hotels extends an open invitation to experience the unexpected both inside and out of the hotel. Distinctly local, personalized service is brought to life through each hotel's engaging Navigators, the brand's ambassadors who connect you to the locale and help you discover the neighborhood's hidden gems and handpicked local discoveries. To learn more visit  www.renhotels.com; like us on Facebook; follow us on Twitter @RenHotels, Instagram and YouTube.
About Wind Creek Hospitality
Wind Creek Hospitality is an authority of the Poarch Band of Creek Indians.  Wind Creek Hospitality manages the Tribe's gaming facilities including: Wind Creek Atmore, Wind Creek Wetumpka, Wind Creek Montgomery, Wind Creek Bethlehem, Wa She Shu Casino in Nevada, Renaissance Aruba Resort & Casino, Renaissance Curacao Resort & Casino, WindCreekCasino.com as well as racetracks in Alabama and Florida.  For more information, visit: https://windcreekhospitality.com/.