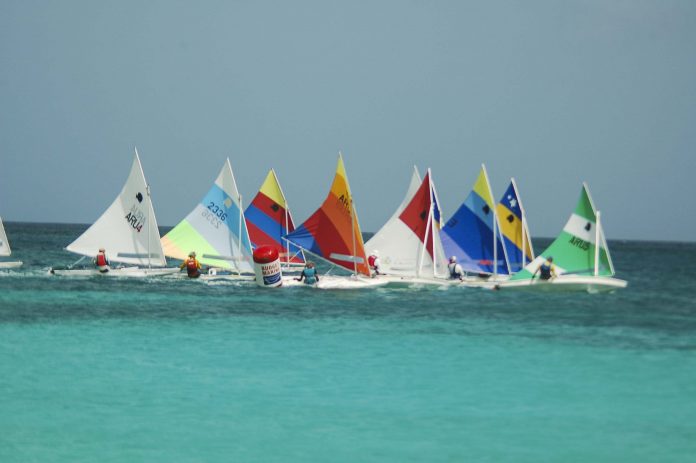 This year on August 16th, 17TH and 18th will take place the 11th edition of Aruba International Regatta. A weekend of action and competition for big yachts, beach cats, and smaller boats like sunfishes and optimists as well as for windsurfers and micro boats; three evenings of music and party for all participants and spectators at the beach.
The sailors will compete for the overall trophy for the winner in the most competitive class. For the youngest sailors there will be optimist and sail qube races and there will be races for the wind surfers. At Gouverneurs beach there will be a micro boat races and a workshop on building organized by Rancho Foundation.
At Surfside Beach, next to the airport, a regatta village will be built to ensure entertainment, music, food and beverage and a spectacular view on the races. More than 40 sailing races will take place in the waters of Oranjestad Harbour on August 17 and 18 from 9 AM until 5 PM. The Aruba International Regatta is not only an event for the participants in the races: the regatta village is a gathering point for people who want to enjoy a view of the races or have a relaxed afternoon on the beach in the regatta-mood. For the third year in a row, the Aruba Regatta Foundation has received a gold award from the Sailors for the Sea – Clean Regattas campaign, also this year's edition will be dedicated to the sustainable clean sailing campaign and all possible efforts will be made to reuse, reduce and recycle the resources for the event.
All events and races take place at Surfside Beach. Together with sponsors like Studio Advisory, ALBO, Tranquilo charters, Power Systems, ASD, ADCTRA, ISS Security, ISC Insurance Software Caribe, Camacuri Residence & Apartments and with the support of the Dutch Marines, this regatta will surely be an event you shouldn't miss! Most participants are already preparing for the races and a number of international competitors have already confirmed their participation in the races.
You can pre-register for the races thru their contact form on their website www.aruba-regatta.com or checkout their facebook page Aruba International Regatta for more information.q