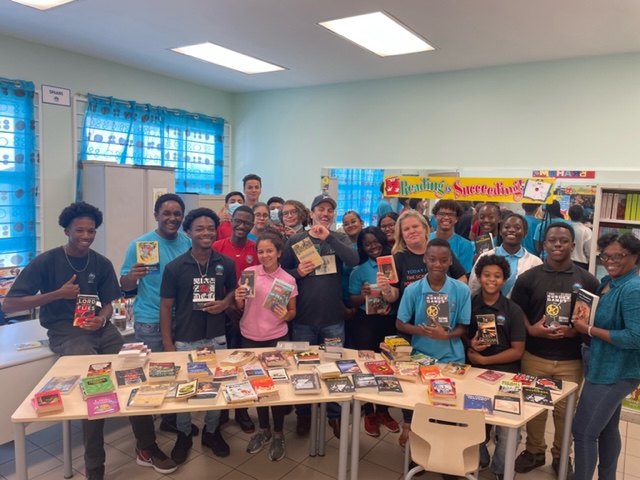 When comedian Ray Ellin, also known as Aruba Ray, saw a facebook post from US social worker and frequent Aruba visitor Jennifer Koegel, asking for books to be donated to Aruban schools, he put down the microphone, and leaped into action.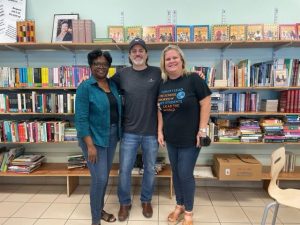 The comedian immediately purchased over a hundred books on Miss Koegel's list of classic literature, with titles from authors including Jane Austen, Harper Lee, JD Salinger, John Grisham, Charlotte Bronte, and dozens more. He personally carried them down to Aruba, and delivered them himself to the principal and students at the C.G. Abraham De Veer School.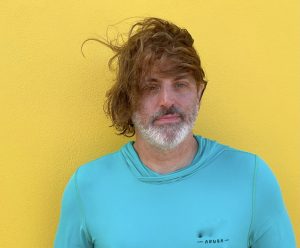 Ellin's love for Aruba runs deep, so much so that the front door of his home in NYC is painted with the Aruban flag. And he said getting involved with the book project was an easy decision. "My oldest sister taught me how to read when I was three years old. In elementary school, my mother took my sisters and me to the library every week to pick out different books. My other sister ended up becoming a very successful writer. I loved getting lost in the different worlds created by Beverly Cleary and Robert Cormier and Judy Blume. I was lucky to have this in my life. Without question, reading is one of the most important and valuable things for kids to be doing. And when I heard that there were Aruban kids without access to these wonderful books, I immediately wanted to help."
This book project was launched in September 2021, when Miss Koegel started the initiative with Aruban resident Charlotte Wolff Croes, who was the owner of "The Homeschool@Paradera". Miss Croes passed away in January, and now taxi driver Robert Croes is helping Miss Koegel collect and distribute the books. The program expanded to other schools; to date, eight different MAVO schools have received close to 2,000 books.
It is an enormous undertaking for Miss Koegel to facilitate this program – she collects books from various sources in America, has to deliver them to people in America who are en route to Aruba, and then arrange for distribution to the Aruban schools. She does this for no pay, and spends her own money to do so – but she thinks it is well worth it.
"The overwhelming response to this project has exceeded my expectations. The respect for this project has been evidence that Aruba has the best travelers who are committed to helping the community. Through networking, I have made so many new friends and proven that small contributions can quickly make a significant impact."
And while Ellin was moved by Koegel's plea on social media, this wasn't the first time he has come to aid causes in Aruba. Over the years he has donated his services as a host and comedian to raise money for the Animal Relief Foundation (ARF), the Aruban Special Olympics team, and during the pandemic, when zero income was coming in to the Aruban economy, Ellin produced online comedy shows from his home in New York City, donating all of the ticket sales, raising thousands of dollars to benefit The Happy To Give Back Foundation. Ellin did these shows while grieving the sudden loss of the same sister that taught him to read as a small child. She unexpectedly passed away two weeks before the first lockdown in the US.
Ellin wants other visitors to Aruba to assist in this cause. "People who love Aruba can easily help. Just call Jennifer Koegel in the United States at 201-704-5415. Every book counts!
And Ellin has asked his fellow comedians to get involved as well. Each comedian who performs at his Aruba Ray's Comedy Shows has been asked to bring books with them to Aruba. In return, Ellin gives each comedian an acai bowl from Eduardo's Beach Shack.
"This is more than a fair deal," laughed Ellin. "The kids will feel good, and the comedian will feel good. The only thing better? Reading a great novel WHILE eating the acai."
Ray Ellin's "Aruba Ray's Comedy Show" is officially TripAdvisor's most popular nightlife activity and show in Aruba. Visit www.rayellin.com or www.arubacomedy.com to learn more about Ellin, comedy, or books.