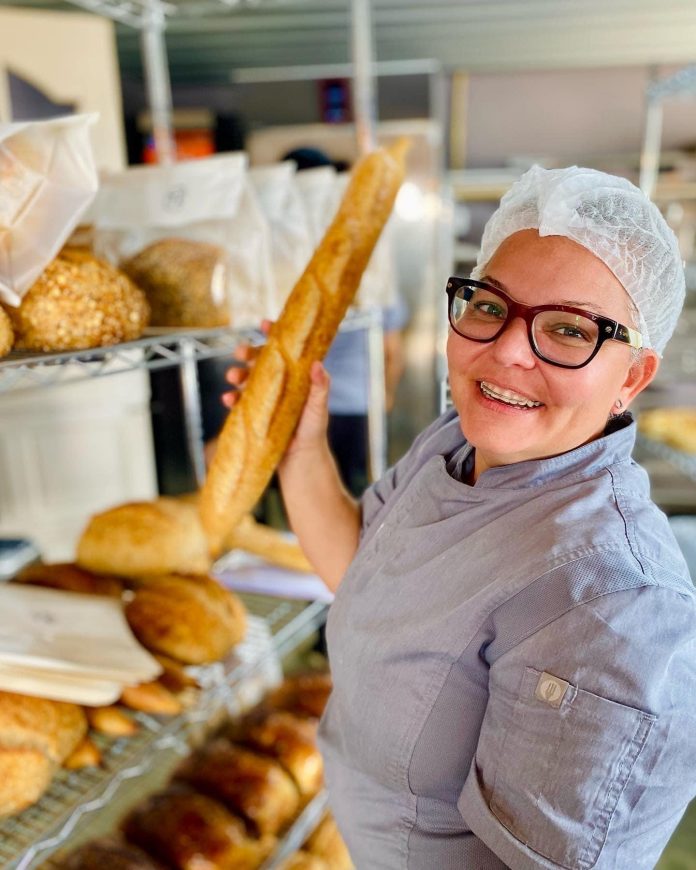 From biologist to baker – Zaida Everon says that it's thanks to her knowledge of biology that her sourdough bread is beloved, all the way to New York and other parts of the United States, because 'I never ate such a good bread', as her clients abroad tell her.
Zaida Everon was known as one of the best cyclists, specialized in mountain biking, of Aruba. But she was also a teacher at Colegio Arubano [secondary education] and mother of two children, who also were very active in the sports world.
Zaida Everon was known as a very disciplined sportswoman. She would wake up hours before any competition in order to eat well and give her body time to digest the food. That meant waking up at 4 or 5 in the morning was never something unusual for her. But once her children started standing out in their own sports disciplines, she left her own sport aside in order to dedicate the time to them. Everon left her bike aside and was focused on her children's well-being, as aside from school, they also dedicated a lot of time to gymnastics. And that was the moment when Zaida really started focusing on what her children were eating. Her focus was on nutrition, and so she started reading about nutrition and particularly bread, which in Aruba is practically carbohydrates without much nutritional value. But during this period, Zaida was traveling with her children for their international competitions, and something that caught her attention was all the small and artisanal bakeries wherever she went. "In Aruba we are used to buying commercial bread, which is heavily processed."
Sourdough
The idea to secure better food motivated Zaida to read and find information, and that's how she came upon sour dough, bread with fermented dough. Sour dough is bread with a lot of vitamins, and it wasn't very common in Aruba. "The more I read about this bread, the more I realized how nutritious it is." Zaida says that this type of bread, sour dough, made her change her mind about bread, that it's actually good, but it needs to be a good bread and not one very processed. Zaida found her bread.
Sourdough
In order to make sour bread, yeast is needed. But to get the dough with yeast, it's not simply a question of combining the flour and the culture, the right balance is needed. "It took me about eight months to find the first sour dough bread which tasted good to eat", Everon says. But what was also fermenting in her head was the idea to start her own bread business, the same sort of artisanal bakery that she observed abroad.
With a sour dough which finally tasted good, and the realization that she had another challenge to overcome, Zaida decided to change course. After toying with the idea in 2018, beginning 2019 she took a course on bread in Aruba, and took the drastic step of retiring as a teacher at Colegio Arubano. "I had so much to give, a lot of creativity to just limit myself and stay in one place. So I decided to leave."
Zaida decided to dedicate herself to becoming a baker. Initially she experimented with her family, she would gift them bread to have with coffee and everyone accepted it gladly. Her family would ask her for bread, and at a certain point she started charging, and no one minded paying. She expanded her circle to her ex-colleagues at Colegio Arubano, and the reaction was similar. As a good biologist, she knew that once the flavor is in, the want for more became natural, and this allowed Zaida to charge for her bread, all made at home. And literally by word of mouth, Zaida's name and her bread's reputation reached businessmen. "I didn't dare on my own to approach business owners. I was selling with family, neighbors, and acquaintances. I would send messages on WhatsApp with a description and a story, and an ex-colleague took the message and sent it to her friends circle. That's how the client base expanded."
In record time, without much experience in marketing but with tireless energy, Zaida started exhibiting her product, among other, at the Cadushi Festival, and this resulted in more clients. At the start of 2020, she was getting more orders and her business doubled, and she was delivering bread twice a week. The pandemic, which made its mark in Aruba on march 2020, could have been a problem, but around 50 of her clients asked Zaida to continue producing the bread and what's more, she expanded her production with sweet rolls, which she sold through Island Grind. "So we grew together. They found clients for me and I found clients for them." Social media contributed to her reputation and the delivery of bread grew from twice a week to four times a week. Nowadays, her bakery is open six days a week, Monday through Saturday, although they don't bake on Saturday.
T2Pan
Zaida started alone with her bakery, and now she has two full-time employees and two freelance, aside from her children who also lend a hand helping with sales and administration. Her bakery's name is T2, a variation of her dad's name, Tito. The official name is T2 Pan Sourdough Bread Boutique, and the bakery collaborates with specialized restaurant and with chefs. The first chef who approached Zaida to make special bread according to a theme was Urvin Croes (of Infini restaurant); but now even chefs from New York have ordered her bread. "The chef wanted this bread specifically." The reason is because Zaida can combine specific ingredients according to the theme of the menu. And the reason the bread from T2 is so well-liked is the starter – that is, the yeast culture which she created herself. Each is different and Zaida's knowledge of biology contributed to a unique starter, which is the base for all her bread, which is now transcending borders.