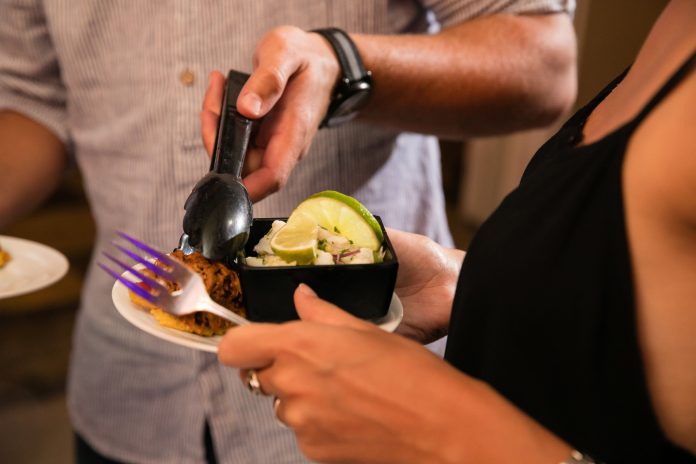 It is one of Aruba's best kept 'value for your dollar'. Experitours crafted a unique food experience that has foodies going crazy. With only 5 star reviews on TripAdvisor, this is a must! Strolling through Aruba's capital Oranjestad foodies visit 5 restaurants to sip and savor 5 different cuisines and 5 drinks.
Naturally Aruba's cuisines is also represented at one of the stops. The food tour is currently only available on Mondays and Thursdays at 7pm and runs a little over 2.5 hours. The official name is 'Fusion of the World Food Tour' and it takes you on a culinary adventure to discover Aruba's  melting pot. On this walking & tasting tour in the soothing evening hours, a local guide will introduce you to Aruba's multi-cultural cuisine and serve you the local scoop. The tour takes your through the colorful streets of Oranjestad, Aruba's capital, to five different local eateries where you will sample Jamaican, Cuban, Dutch, Italian and typical Aruban food. (Restaurants & Cuisines are subject to change).
For bookings: www.arubawalkingtours.com , telephone +297 699 0995 or your favorite concierge.