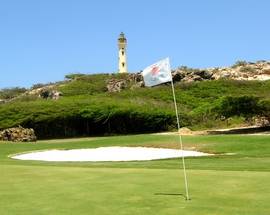 Mark our words — very soon you are in for a dining journey like no other! The Restaurant at Tierra del Sol invites you to discover their new space after a complete renovation. Be enchanted by excellent cuisine, friendly service and a gorgeous setting surrounded by nature and tranquility. A place that marks the different. Coming soon.
The new space showcases a fashionable color scheme, new furniture, new floors and a repositioning of elements giving the interior an impressively refreshing atmosphere. This will make you fall in love with The Restaurant at Tierra del Sol all over again. The final construction details are being finalized and the team is thrilled to announce the opening announcement any week now. Stay tuned for the announcement date through Aruba Today's newspaper or social medias channels of Tierra del Sol's or Aruba Today.
Meanwhile.
In the meantime, bring your friends and family to enjoy lunch or early dinner at the 19th Hole Bar at Tierra del Sol, open daily from 10:00am to 8:00pm.
Get away from the crowds within a short distance and unwind in the refined yet casual ambiance of Tierra del Sol Resort & Golf.
TIERRA DEL SOL RESORT & GOLF
18th Hole Golf Course – Rental Vacation – Restaurant & Bar – Spa
Phone: (+297) 586-7800
Email: reservations@tierradelsol.com