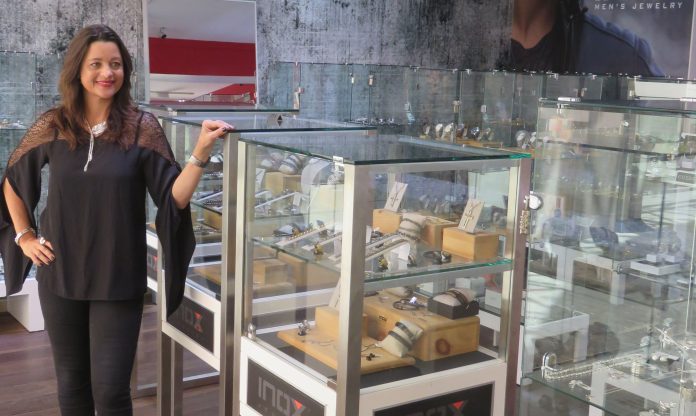 There is a hip place in Aruba you must visit before returning home. Reason: here you get bang for the buck, trendy and unique jewelry that is rare to find in the USA and something for everyone as in men's, women's and children's bling bling. Rage Silver is run by Marny de l' Isle who handpicks every single item you find in the stores of Rage Silver herself. Passion, passion, passion is what this store breathes and we guarantee you will fall in love with this gem.
Rage Silver has two stores: one at the Renaissance Marketplace downtown and one at the Palm Beach Plaza Mall. The first was opened 21 years ago with Marny's intention to sell great price point jewelry with a unique collection mainly for Europe. Her trustworthy name and always surprising collections made her successful through all those years. "The core items are from the Rage house brand Collection and next to that I selected some really great and out-of-the-box brands. Trendy, hip and affordable. We offer awesome gift ideas for e.g. graduations, birthdays, and souvenirs or just for yourself." The store is actually really cool and you can find pendants, earrings, rings, necklaces, watches and much more.
Lovely Lines – only available at the renaissance marketplace store
Ti Sento is all about Italian flair. The brand is actually from Holland, but totally Italian inspired. The items are Sterling Silver and unexpected, mingled, stacked together and layered. It is her style – her choice, is what the brand expresses.
"Ti Sento used to sell high end jewelry and diamonds meaning their expertise is excellent and the quality high end, but the prices very affordable. Their stackable rings, cute little earrings with changeable charms and layered bracelets are just some of the trendy options they have. When you buy this, it will be a hit for a fact." From Italy we go to Indonesia to the brand Buddha to Buddha. Marny: "Also a brand from Holland, but hand made in Indonesia in Sterling Silver and inspired by spiritual vibes. Very cool, bulky fashionable items that make a statement."
Both Tisento and Buddha to Buddha are only available at the Renaissance Marketplace store. Uno de 50 is from Spain and an instant success brand. She sells it in both stores and people cannot get enough of it. "This is fashion, identity, self-expression", says Marny. "It is a brand that rocks with chunky pieces of thick silver-plated design items and combined with leather and colored stones. Initially they only made fifty of each item, explaining the name of the brand." By the way, rage Silver wraps the gifts in an impressive manner. You feel blessed already by seeing the wrap!
Women, Men & Youngsters
In the Renaissance marketplace store, almost half of the 100 square meter is actually men's collection, worth stepping inside to check it out.
Also for children from five and up Rage Silver has a terrific offering that expresses their being. For everyone there is a pick and the experienced employees will help you find your desire. "The clientele is very broad, from children to 65+ we have them buying. Renaissance Marketplace tends to attract a younger crowd due to more non-brands and casual jewelry while Palm Beach Plaza offers upscale brands as well", Marny explains.
Love Story
The start of the store is actually a love story. "On a business trip for my job at that time I spent a few hours in Puerto Rico where I bought this silver bracelet for my now husband.
It had little 'kokopellies' on it and it was the perfect gift for him as he was a wake boarder, now kite surfer, beach boy type. His friends were so enthusiastic about it that he told me: "Why don't we start a silver shop." With a little budget she started off selling rings of Mexican silver from the house and slowly expanded. Eventually they opened the first store together in downtown Oranjestad. "Today we got as far as two stores, one at Renaissance Marketplace and one at Palm Beach Plaza. We have a loyal local clientele as well as repeated visitors buying their favorite jewelry here."
Renaissance Marketplace
Monday – Saturday 9.30 am – 8 pm
Telephone +297-2806226
ragejewelry@gmail.com
Palm Beach Plaza Mall
Monday – Saturday 10 am – 10 pm
Sundays 5 pm -10 pm
Telephone +297-5861244
ragejewelry@gmail.com