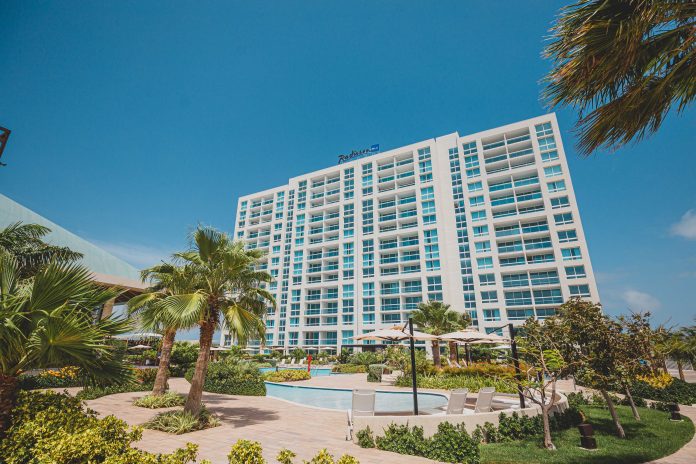 Radisson Blu Aruba has been awarded LEED certification by the U.S. Green Building Council (USGBC), making it the first hotel construction in Aruba to be LEED certified.
LEED, which stands for Leadership in Energy and Environmental Design, consists of a group of rating systems for the design, construction, and operation of high-performance green buildings. It is an open and transparent process that works toward sustainability, a green environment, and the preservation of human health.
"We are extremely proud of this achievement," said Luigi Wix, General Manager of the resort. "The LEED certification demonstrates the significant lower impact our resort's design and construction has on the environment as well as validating our commitment to being a sustainable hotel. Environmental consciousness is important to both business and leisure guests when choosing a hotel, and we look forward to welcoming guests and groups who share our high environmental standards."
Radisson Blu Aruba opened in April of last year and houses 132 hotel suites and 76 condo residences. They implemented various sustainable features and practices both throughout the building process as well as daily operations in order to obtain the LEED certification. Some examples of how the hotel did this was focusing on energy efficiency because it is by far the most important aspect of a sustainable building. Radisson Blu Aruba has an advanced automated air conditioning system for the rooms and the Club House and uses only LED lighting. The resort also collects its AC condensed water and processes it onsite to reuse it for irrigation.
This new resort on Palm Beach boasts beautiful adult landscaping that integrates indigenous species. Other sustainably conscious hotel operations include bathroom fixtures that ensure reduced water consumption, using environmentally safe cleaning supplies, as well as using soap and shampoo refillable dispensers rather than the traditional single-use bottles.