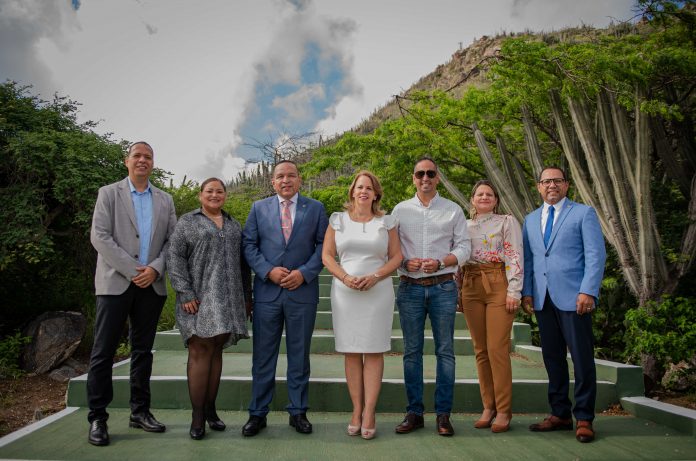 Monday morning during a press conference at the Hooiberg, minister of Public Health and Tourism, Mr. Dangui Oduber announced a project for the beautification of Hooiberg.
This took place in the presence of minister president Evelyn Wever-Croes, minister of Sport and Education, Endy Croes and various members of parliament from the MEP faction. This is another project to contribute to elevate the product Aruba, according to a press release.
The project for the beautification of Hooiberg will be executed with funds from Aruba Tourism Authority (A.T.A.) and the Tourism Product Enhancement Fund (TPEF). The first phase of the project where the steps were fixed and the entry to the hut was renovated in the past was done with funds from TPEF. In the following phase, A.T.A. will finance the refurbishing of the existing lookout.
Together with A.T.A. a new lookout will be constructed at the top of Hooiberg so that the local community and the tourists can enjoy a 360 degree view of our island.
Also, together with TPEF the steps at the Hooiberg will be fixed using our local artists, who will give the steps an artistic touch with mosaic. The goal is for Hooiberg to become a colorful attraction for the local community as well as our tourists.
In the coming weeks the public tender will begin where all local companies get the opportunity to send in an offer. If everything goes according to plan, this project must be delivered by the beginning of 2023, minister Oduber declared.
Minister Oduber mentioned that Aruba is a high quality destination, and our visitors pay good money to come to Aruba. This is why it's important that we continue improving the product Aruba so that our visitors get the value for which they pay. All this, according to the press release, is in the context of diversification for our tourist destination.