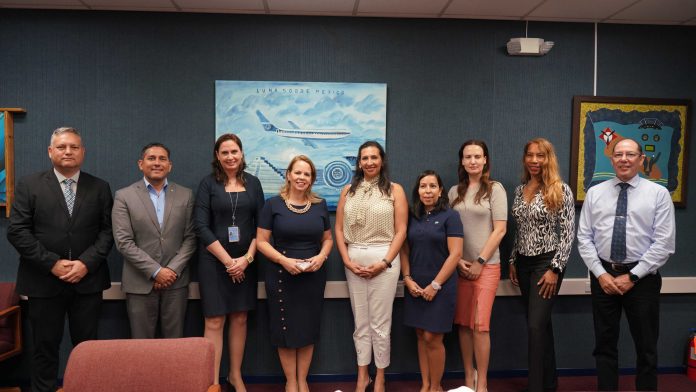 Yesterday morning, September 9, prime minister of Aruba, Evelyn Wever-Croes together with her colleague minister of Transport, Integrity, Nature and Older Persons Affairs, Ursell Arends, held a meeting with Aruba Aviation Department (Directie Luchtvaart Aruba, DLA). Director of Civil Aviation Aruba, Mr. Edwin Kelly was present during the meeting.
These days, Aruba together with International Civil Aviation Organization (ICAO) are going over all aviation systems in Aruba in order to get an understanding on how well Aruba is prepared for an audit in the Future. It is a great honor for Aruba that the team that came over for the assessment in Aruba is a team of experts in the field of aviation, and is an all-female team from Curaçao, Honduras and Mexico.
"This morning I had the honor of meeting this team of ladies and to talk with them. They explained to us how the assessment is going and they informed us that they are very proud of everything that Aruba has in place. Of course there are things that need to be improved in order to guarantee aviation safety even more, but they are happy and satisfied with what they're seeing right now", the prime minister commented.
Wever-Croes expressed that the Government of Aruba, not only in the name of minister Ursell Arends who is in charge of Transport, but also the entire Council of Ministers, gave the commitment that they will support Aruba Aviation Department in this evaluation in order to guarantee safety in aviation.
"I thank the amazing team of Aruba Aviation Department also, which has many female professionals, for all the work that they are doing. It was nice to speak with this group of professionals who are breaking barriers. Women who are breaking barriers in every sector and position in order to create a better world", prime minister Evelyn Wever-Croes expressed.