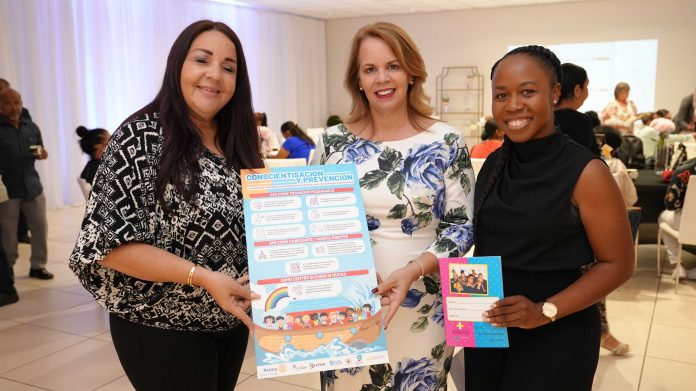 Last weekend the presentation of an information book and poster on baby care and protection was presented to leaders of care centers, at Boulevard Events Aruba. Aruba has the Platform Safety in the Care of Children, which is in charge of creating a safer environment of awareness and prevention at care centers for children – known as crèche – for all babies between 6 and 12 months of age.
This platform is lead by Mrs. Noemi Maduro. Mrs. Maduro, as is known, went through a horrible situation in which she lost her son, baby Noah who passed away at a care center.
Prime Minister of Aruba, Evelyn Wever-Croes represented minister of Justice and Social Affairs, Mr. Rocco Tjon at the event.
The information poster contains ten points of awareness, and the book contains information that can help care centers for children in being more effecting in the care of our children. This is a beautiful initiative of Noemi Maduro and the Platform. Oftentimes, the care centers perhaps are not well equipped with all the current information, for this reason, foundations, organizations and this Platform are ready to help and lend a hand to make care centers safe and provide reassurance to parents.
"Our youngest children deserve to be in a safe environment. And it is the responsibility of each citizen to create this environment for them. This is the commitment of the Wever-Croes II Cabinet", the prime minister emphasized.
Currently, the project for the care centers is in execution. Relevant stakeholders will be involved, as well as the care centers. This is a very long and very diverse trajectory, which will focus on educational and infrastructural aspects. Fundacion pa nos Muchanan (Foundation for our Children) has a very important role in the educational aspect. The introduction of this will be done in phases, taking into consideration the specific situation of each care center.
The prime minister thanked the platform for their effort and work to elevate the security for our children at the care centers.