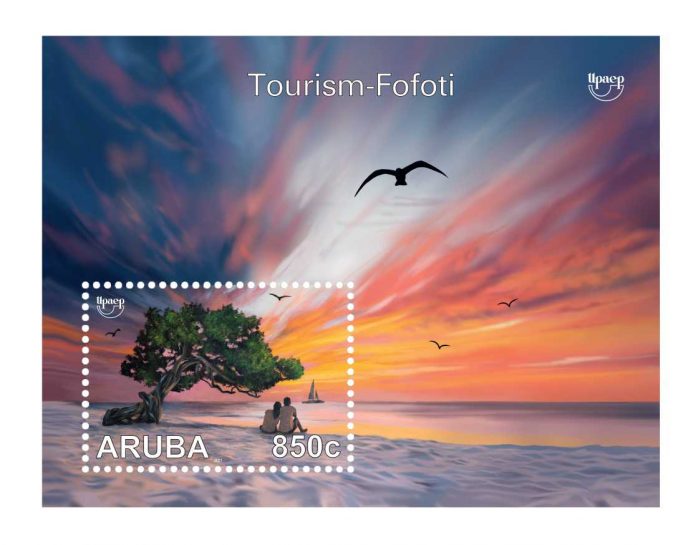 On October 14, 2021 Post Aruba N.V. emitted its first stamp for 2021 in a format of souvenir sheet. This stamp emission is named "Fofoti" and was designed by Mr. Armando Goedgedrag.
The Fofoti is a mangle from the genre Combretaceae. This species grows in tropical and sub tropical regions around the world. It is green year-round and it grows inland on firm land, yet near salt water. Its English name is "Buttonwood" named after the shape of its fruit, a brown and round button-like shape.
One of the landmark Fofoti trees in Aruba is the one located on the Eagle Beach. It is a scenic location for where most tourists snap a photo at sunset.
The particular shape of this Fofoti mangle is primarily due to the constant trade winds, and provides a stunning landscape on the ocean's front. The Fofoti mangle is found on most locations around the island, however they are seen mostly in the Malmok area, Eagle Beach, Linear Park and Baby Beach. They are also found near most creeks like Rooi Prikichi, Rooi Canashito and at the Rooi at Sero Cristal.
The Fofoti as well as all other mangroves are protected by law.
This souvenir sheet is available at all the Post Office locations, namely in Oranjestad and San Nicolas.
Make sure that you have this souvenir sheet in your collection as the stock is limited.
For more information on the "Fofoti" issue please visit the Facebook page: Aruba Stamps or Webpage: postaruba.com/philatelic/.